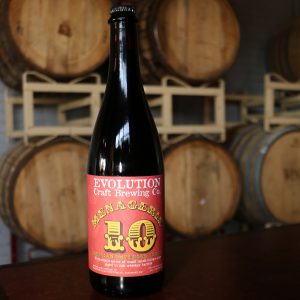 Salisbury, MD — It has been a while but our Menagerie series is back with Menagerie #10 a Russian Imperial Stout aged on whiskey barrels.
Evolution's Menagerie Series is an assorted creation of one-offs that will (probably) never be seen again. They are usually (but not always) oak aged and often (but not exclusively) blended.
Every so often we have decided to bottle a couple of these so we can lay some down in our cellar. Bottle Conditioned. We will be releasing Menagerie 10 this Saturday, November 26 at our Shuckin' Good Oyster Fest starting at Noon.
Just in time for the holidays! Be sure to get to the EVO Tasting Room to pick up some bottles. Ideal for drinking, ageing and gift giving. Limit 4 per customer.
Evolution Craft Brewing, 201 East Vine Street, Salisbury, MD. www.evolutioncraftbrewing.com