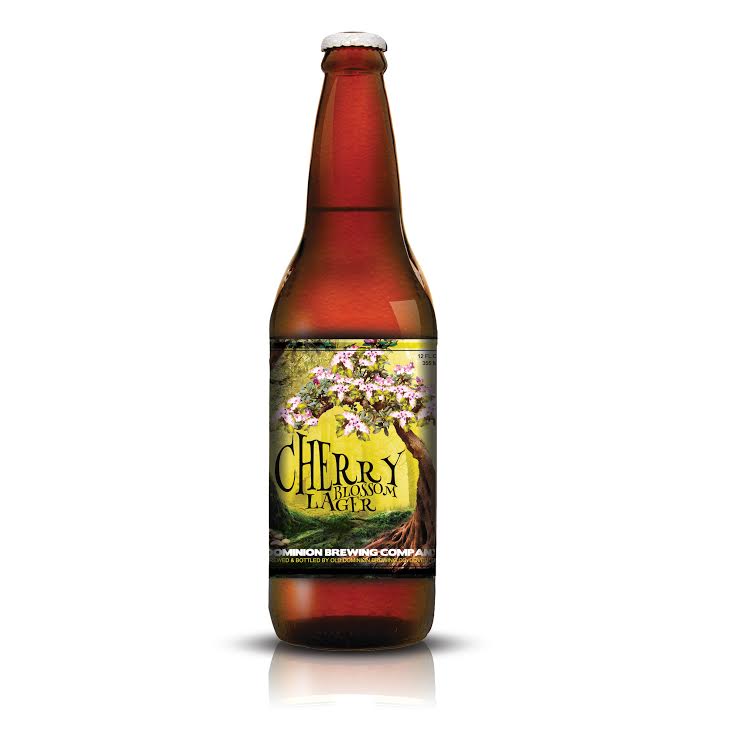 Dover, DE — Dominion Brewing's Cherry Blossom Lager will be returning to shelves again in March 2014, just in time for the Cherry Blossom Festival.
Blushing pink, effervescent, and tasting lightly of cherry champagne , Cherry Blossom Lager is conditioned on a bed of 300 pounds of Michigan cherries for 48 hours prior to packaging. Pale, Carafoam, Munich, and Vienna malts provide a crisp backbone, while the subtle addition of Perle and Tradition hops allows the fruit to transcend this delight. The label artwork was inspired by a passage from "Alice in Wonderland."
CEO and President of Dominion Brewing, Jim Lutz, stated, "Every year, we make the tough decision about how much Cherry Blossom Lager we should make. The demand has been increasing ever since we started brewing it and we just can't keep up. This year, we will be crafting 500 barrels and our drinkers still won't be satisfied."
Cherry Blossom Lager will be available in six-packs and on draft. It will be flying off shelves and taps in the Mid-Atlantic region in March 2014.
About
Based on shared values and a common philosophy of quality brewing, Fordham Brewing & Dominion Brewing joined forces in 2007 and consolidated operations in 2009. The First State is now home to the Fordham & Dominion Brewing Co., where beer lovers from near and far are able to stop by, get to know us, and enjoy our handcrafted beer and soda. Our roots run deep throughout the Mid-Atlantic region and we remain dedicated to our craft. Throughout our history, we have always believed in two things: the beer we make and the people who drink it. For more information, visit fordhamanddominion.com.