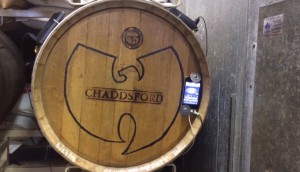 Philadelphia, PA — Dock Street Brewery is barrel-aging "Dock Street Beer Ain't Nothing to Funk With", a Golden Saison with non-subtle notes of spicy pineapple and tart orange. And we're bringing Da Ruckus to da beer, serenading it non-stop all summer with the sweet sweet sounds of Wu Tang Clan while it lies conditioning in a red wine barrel from a local winery.
Head Brewer Vince Desrosiers had always wanted to do a music series, and the name "Dock Street Beer Ain't Nothing to Funk With", in homage to one of his favorite rap dynasties, was too perfect not to funk with. From there, brewer Sasha Certo-Ware devised a speaker hook-up that would play Wu Tang Clan 24/7.
As hipster whistle-blowers are eager to point out, this is, in a word, silly. In fact, the plan originated as a joke, but eleventy beers later it was decided that therein was a valid scientific theory that needed to be tested. "We wondered if the bass would cause enough vibration to move the yeast around and create some different flavors during fermentation," Desrosiers explains.
For you cynics out there: There is some Method (Man) to the madness, besides the mere fact that we want to listen to Wu Tang for months on end. According to our Masta Brewa (and science) "When yeast grows it produces flavor compounds. Vibrations are proven to cause yeast to grow more, which results in more flavor."
We pressed play a week ago, and we'll pull the plug (and tap the beer) in September, 2015. The result? Four amped-up kegs that will be on tap and in bottles at Dock Street in West Philly.
"Funk" sets in motion several summer series we're brewing up, including a barrel program and a sour beer roster, as well as a BerlinerVice, a tart, German-style wheat beer flavored with lime zest and Vicio Mezcal from our from our sister company, Dock Street Spirits.
As for our playlist: A "Run the Jewels" beer is on deck.