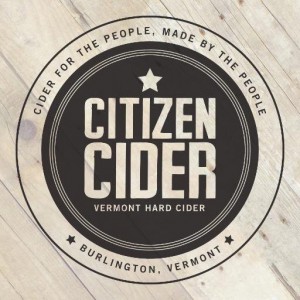 Burlington, VT. — Citizen Cider, founded in 2010 on a hunch and some good old-fashioned hard work, has quickly become a leading player in the craft cider arena. Citizen Cider strives to look at the bigger picture and focuses on being involved in every aspect of their supply chain, sourcing all fruit directly from local farmers and pressing the juice to create a true craft cider. Never from concentrate.
It is with great regret that we are retiring our beloved Full Nelson. We made this decision based on the fact that there is a worldwide shortage of Nelson Sauvin hops, and they are no longer available to us. Hops are not always easy for us to acquire because we do not order them in the same bulk amounts that a brewery would; we're just a humble local cider in a big, scary craft beer world. But they say everything happens for a reason, and in this case it is true.
We are happy to introduce the Lake Hopper. The Lake divides us. The Lake connects us. Citizen Cider is proud to work with the good growers on both sides of mighty Lake Champlain, Vermont and New York. Made entirely with apples and cascade hops from the same landscape, and in some cases the same farms, this cider is a tribute to those things that connect us. Two States. One Landscape. One Cider. Get Connected. Drink the Lake Hopper. Non-Traditional Dry-Hopped Cider. Lake Hopper with an ABV of 6.2% is available in 16oz cans and draught.
About Citizen Cider
Citizen Cider, even in the early days, has always had a forward momentum bigger than the guys. They have guided the boat but the river guides them both. A big idea yes, but at the end of the day they remain present with a simple goal. Bring the cider to the people. Now available in 9 states. www.citizencider.com.