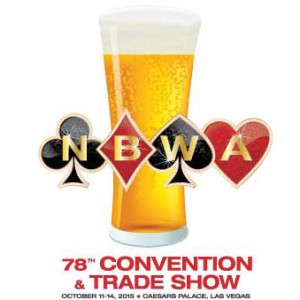 ALEXANDRIA, VA – The National Beer Wholesalers Association's (NBWA) 78th Annual Convention and Trade Show will take place October 11 – 14, 2015, at Caesars Palace in Las Vegas, Nevada.
During the general session on Tuesday, October 13, President of Gretz Beer Company and NBWA Political Action Committee Chairman Mike Gretz will moderate a panel of leaders from five breweries and importers that partner with independent beer distributors across the country. Participants include:
Ronald den Elzen, President and CEO, Heineken USA
Ken Grossman, Founder, Sierra Nevada Brewing Co.
Bill Hackett, President, Constellation Brands Beer Division
Gavin Hattersley, Interim CEO, MillerCoors LLC
João Castro Neves, Zone President North America, Anheuser-Busch InBev
NBWA President and CEO Craig Purser said, "It has been said that the only constant in the American beer industry is change. That saying is true once again this year."
"From new entrants to the beer marketplace to new ownership in the brewery tier and new leadership for some supplier partners, there are many changes taking place in the American beer industry," Purser added. "What does this mean for distributors? And how is the consumer impacted? NBWA is thrilled to bring together this diverse group of leaders to hear their perspectives on what the future of the industry may hold."
The general session also will feature Captain "Sully" Sullenberger, the pilot responsible for the "Miracle on the Hudson," award-winning journalist Candy Crowley and "white hat hacker" Jayson Street.
Registration is available online at www.nbwa.org/convention. Hotel accommodations at Caesars Palace can be made online or by calling (866) 227-5944. Reference the National Beer Wholesalers Association or NBWA to receive the group rates of $205+taxes per night in the Forum Tower or $213+taxes per night in the Augustus, Palace and Octavius Towers. The last day to make hotel reservations and receive the discounted room rate is September 17, 2015. The NBWA guest room block can sell out prior to this date. Once the block is sold, room rates cannot be guaranteed.
For more details, including media registration details and guidelines, please visit the convention page of NBWA's website at www.nbwa.org/convention. Follow #NBWAVEGAS on Twitter for additional updates.
About:
The National Beer Wholesalers Association (NBWA) represents the interests of America's 3,300 licensed, independent beer distributor operations in every state, congressional district and media market across the country. Beer distributors are committed to ensuring alcohol is provided safely and responsibly to consumers of legal drinking age through the three-tier, state-based system of alcohol regulation and distribution. To learn more about America's beer distributors, visit www.AmericasBeerDistributors.com. For additional updates from NBWA, follow @NBWABeer on Twitter, watch NBWA videos on www.youtube.com/NBWABeer and visit https://www.facebook.com/pages/NBWABeer