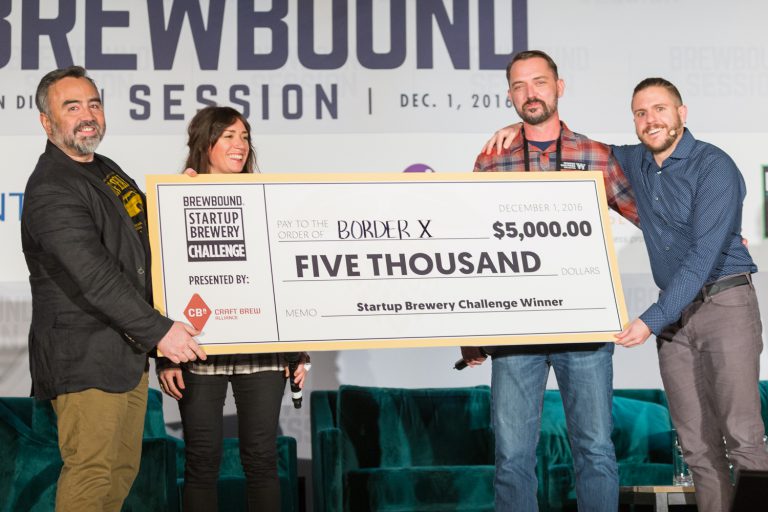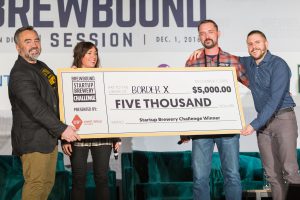 Border X Brewing used its Latino fusion flair to win the Brewbound's Seventh Startup Brewery Challenge, held at the Paradise Point Resort in San Diego on December 1.
Brewery founder David Favela beat out five other participants with his true-to-brand story and logo, his strong connections to the Hispanic community, and his contagious passion for bringing Latino-fusion brews to San Diego consumers.
"It feels almost surreal," Favela told Brewbound about his victory. "There is something about your roots, just like an Irish person walking into an Irish pub. There is a certain warmth to it even if you are second or third or fourth generation, and that's the same thing we are doing here."
Brewbound Session attendees also heard pitches from the owners at five other companies — Friends and Allies Brewing, Alamo Beer Company, M.I.A. Beer Company, Binghamton Brewing Co., and Shannon Brewing Co. — who presented during the bi-annual business pitch competition, sponsored by Craft Brew Alliance, which gives new beer companies an opportunity to showcase their business plans to five expert judges.
That panel of judges — Karmen Olson, senior manager of emerging business at Craft Brew Alliance; Amy Gutierrez, beer category manager at BevMo!; Daniel Lust, co-founder of Pints LLC; Tom Bleigh, innovation brewmaster at Craft Brew Alliance, and Stephen Bossu, co-founder of Hopewell Brewing Company and the winner of Startup Brewery Challenge 6 — also sampled one core product offering from each brewery and provided immediate feedback to the participants.
During his pitch, Favela described how the almost two-year-old brewery was created to serve the Latino community, one that he felt was going unnoticed by craft brewers, "especially in terms of our palette," he said.
He also shared how Border X opened its first taproom on Logan Ave, one of the toughest neighborhoods in San Diego, and described how the tasting room also serves street tacos, a variety of beers, and regularly features live music. The brewery, he said, has helped to rejuvenate an economically depressed area of the city over the last two years.
Border X's beer flavors are rooted in Latin American heritage with ingredients like agave, horchata, and hibiscus. Its logo also captures the spirit of the culture, combining the Aztec sun god with a graphic of hops.
"I like to think if there was an Aztec god of beer, this is what it would look like," Favela joked during his pitch.
In describing why Border X was named the winner of Startup Brewery Challenge 7, Olson said Favela's conviction for his story spoke to her on a personal level.
"It feels like a revolution," she said. "It feels like I'm part of something really cool and I have a visceral, emotional reaction to what he's trying to do. "
"He's put meat on the bones of this thing that he said he was going to do," she added. "I've been noticing so much latin influence on brands, on beers, on packaging design… [and] I think a lot of people recognize that the latino population is growing, and they need to respond to that and want to be able to provide a space for them in the beer arena."
Favela won a $5,000 grand prize, which will be used to fuel the growth of his emerging business, as well as an all-expenses-paid trip to Portland, Ore., where he'll have the chance to meet with and learn from CBA executives.
Devon Ponds, of Friends and Allies Brewing Company, was the runner up in the competition.
Following the win, Favela said he planned to celebrate the victory with the people that made it all possible: his customers.
"I'm going straight to the tasting room right now," he said on Thursday evening. "We have this thing called latin jazz jam and it's going to be packed we have a great audience, so I'm going to go share this with them because they are the ones that made it happen you know?"
Border X is the seventh company to win the Startup Brewery Challenge, joining Hopewell Brewing, Wynwood Brewing Company, Braxton Brewing Company, CODA Brewing, Appalachian Mountain Brewery and 5 Stones Brewing.