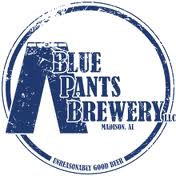 BIRMINGHAM, AL- Blue Pants Brewery has crafted two new sessional beers for consumers to taste and help decide on their FIRST 12 ounce brew to be launched throughout the Birmingham, Huntsville and Montgomery markets. AlaBev is distributing both choices to 20 select retailers, restaurants and bars for the month of February. Consumers can voice their opinion by trying both beers, then voting on their favorite style on Blue Pants Brewery's Facebook page. Based on popularity and votes on the online polls, along with feedback from the vendors and tap room customers, Blue Pants will brew and bottle the fan favorite beer.
"This competition is unique and exciting because it places the decision in the consumers' hands," says Matt Kilpatrick, Specialty and Imports Manager for AlaBev. "It is not only fun for beer connoisseurs to choose their favorite flavor, but it also shows which brew from Blue Pants Brewing Company will satisfy consumers more."
The sessional offerings that are only available this month are Blue Pants' Amber Waders of Grain, an amber lager and Blue Pants' Workman Ale, their version of an Alabama common lager. Both beers have a lower ABV that are artfully crafted so that you can sustain the pace of drinking throughout the night. Amber Waders of Grain is a smooth, malty lager, rich with specialty malts but with a clean lager finish. It is very lightly hopped, allowing the malt and clean crispness of the yeast to stand out. Workman Ale is a light lager hybrid with flavor — clean and crisp like a lager, but with the beautiful citrus flavors of Citra hops and spicy Rye. The Workman Ale is incredibly drinkable and light, but tastier than other lighter thin beers.
AlaBev will be distributing both the Amber Waders of Grain and the Workman Ale to several restaurants and bars in Alabama for the month of February only. In Huntsville, consumers will find them at Drakes, Famous Joes, Liquor Express, and The Nook. In Birmingham, the beers are being released to Hop City, the J Clyde, and Slice.
ABOUT BIRMINGHAM BEVERAGE
Birmingham Beverage was founded in 1907 in Birmingham, AL. Birmingham Beverage currently distributes to the areas surrounding Birmingham, Huntsville and Montgomery. They distribute domestic beer, domestic craft and specialty beer, imported beer, organic beer, draught beer, flavored malt beverages and coolers, cider, wine, alcohol free beverages and specialty foods. Birmingham Beverage is currently the largest distributor of domestic craft and specialty beer within Alabama.
About Blue Pants Brewery
Blue Pants Brewery was born out of a love of craft beer and the beer culture. Owner Mike Spratley's journey with craft beer started in Seattle during the summer of 2007. Its mission is to become a nationally recognized regional craft brewery within five years through creating unreasonably good beers that push the bounds of the beer world and by providing unparalleled support to our customers and vendors through customer service and incorporation of cutting edge technologies. Blue Pants Brewery's two locations are based in Madison, AL.