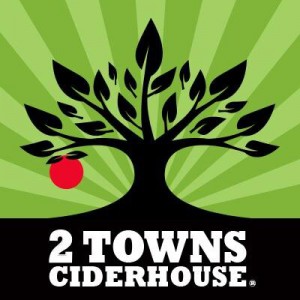 Corvallis, Ore., – 2 Towns Ciderhouse is excited to announce its partnership with Craft Beer Guild Distributing of San Diego to distribute its ciders throughout San Diego County. 2 Towns ciders were previously available on a limited basis in the county. This change heralds a wider range and depth of distribution for the Oregon cider company.
2 Towns Ciderhouse launched 2010 in Corvallis, Oregon, with two flagship ciders. Now it has one of the most diverse and award-winning cider lineups in the industry. Most recently, 2 Towns Ciderhouse was awarded Cidery of the Year at the US Open Beer Championship. The company is committed to making true craft cider with fresh-pressed 100 percent Northwest apples, and no added sugars, essences or flavorings.
San Diego County stores, bars and restaurant will now have access to our full lineup of ciders, including flagship BrightCider, Bad Apple, OutCider and Made Marion, a Marion Blackberry cider. In addition, the company's seasonal, limited-release and specialty ciders will be available for local enjoyment.
"CBGSD has a great reputation for service in the craft beverage-focused San Diego area," said Nels Jewell-Larsen, director of business development for 2 Towns. " We look forward to joining the great craft community down here and working on some San Diego-specific collaborations—we have something lined up for early spring that I think folks will be really excited about."
"2 Towns makes true craft cider," said Kyle Sartanowicz, market manager of CBGSD. "Their ciders will make a unique addition to our portfolio. Our customers are going to be really impressed with the quality and approachability of their offerings, and we are very excited about partnering with 2 Towns in San Diego."
About 2 Towns Ciderhouse
2 Towns Ciderhouse was founded in Corvallis, Oregon, in 2010 with the mission of bringing cider back to the people. 2 Towns Ciderhouse is a proud pioneer in the resurgence of America's first beverage of choice. We planted our own orchard in 2012 to help revitalize old-world heirloom apples. We are committed to supporting local apple growers by insisting on using the finest fresh-pressed 100 percent Northwest apples and never take shortcuts in the cider-making process. Our process includes careful fermentation and no added sugar or essence flavorings, allowing the naturally fermented ingredients to speak for themselves. Named for two towns in our locale, Corvallis and Eugene, 2 Towns Ciderhouse has become one of the most award-winning and recognized ciders in the West. Please visitwww.2townsciderhouse.com for more information.
About Craft Beer Guild San Diego:
Founded in 2012, Craft Beer Guild of San Diego marked the Sheehan Family Companies' first foothold on the West Coast. With a portfolio of local and regional craft beers and imports from all over the world, Craft Beer Guild services the eighth largest city (and one of the fastest growing) in the U.S. Even though we may be only a few years old, our staff's experience in the beer business is second to none. Craft Beer Guild Distributing of San Diego is proud to distribute top craft brands including local favorites, as well as ciders and imports.