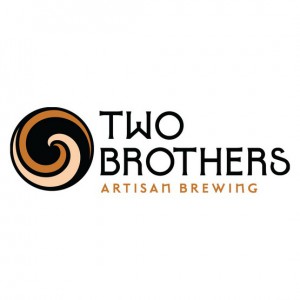 Warrenville, IL — Twenty-plus years ago, when the craft beer industry was just beginning, Two Brothers Brewing Company got its start in suburban Chicagoland with the goal of creating signature craft beers inspired by many of the great breweries the Ebel brothers experienced while traveling Europe. That was in the fall of 1996, and today in honor of this momentous milestone, Two Brothers debuts its first year-round pilsner, Twenty-Plus. Twenty-Plus is a hop forward pilsner lager that is clean and refreshing, with a pale straw color and dense white head.
Brewed with Saaz and Hallertau hops, Twenty-Plus is a light-bodied pilsner lager that gives off herbal and floral flavors with a nice spicy black pepper character. Those flavors are balanced by a light and refreshing malt character that showcases an heirloom barley variety grown on a very small scale. The beer is then aged for 28 days, resulting in a complex, dry and crisp finish. Two Brothers Twenty-Plus Pils pairs perfectly with fish, sharp cheddar cheese, paninis and Dijon mustards—the things that "plus-up" any day, at any time of the year. Offered in 6-pack cans, ½ and 1/6 barrels and on tap throughout all Two Brothers distribution areas, Twenty-Plus is the first year-round introduction since the addition of Wobble IPA two-years ago, and will become the staple pilsner lager in Two Brothers' full line of beers — making it eight year-rounds, nine seasonals, plus exclusive artisan Special Projects — with a commitment to delivering great taste, integrity and high quality.
This pilsner not only gets its name from the fact that the newest beer is Twenty-Plus years in the marking, but also gives a nod to the Company's recent purchase of 20-plus acres in its hometown, Warrenville, Illinois. Located at the corner of State Route 59 and Butterfield Road, this land will house the new Two Brothers Brewing Company state-of- the-art brewing facility and campus. Groundbreaking is scheduled for 2018, with an anticipated completion date in 2019 or 2020. This new facility will help ensure the 100% family-owned company remains staunchly independent and able to continue to focus on making beer with craftsmanship, creativity and conscience, maintaining sustainable practices and supporting their local community well into the future.
While the company was founded in 1996, the first Two Brothers beer hit the market in the spring of 1997, a milestone that will be commemorated in 2017 with special anniversary celebrations and releases. As the Company builds to the 20th anniversary of its first-ever beer, Two Brothers brings Twenty-Plus Pilsner to market, continuing to distinguish themselves from the craft beer crowd by standing behind the values that have made the brand—quality, heritage, integrity, authenticity and sustainability.
"The things that make our beer and our company distinct are so much a part of the fabric of our brand, we know better than to mess with it," adds Ebel. "Our mission has always been to use locally sourced products to develop high-quality, authentic craft beer that tastes great and is created by a family-owned company built on tradition. We've never been about changing who we are to appeal to the newest fad or trend. That's never going to change and we know our loyal customers appreciate that."
About Two Brothers Artisan Brewing
Two Brothers Brewing Company was founded by Jim and Jason Ebel in late 1996. In the past 20 years, the brand has expanded to include a 40,000-square- foot brewing facility in Warrenville, Illinois, Two Brothers Tap House adjacent to the brewery, the 70,000-square- foot Two Brothers Roundhouse in Aurora, Two Brothers Tap House and Brewery in Scottsdale, Arizona, and currently under construction, The Craftsman by Two Brothers (scheduled t open fall 2016). Two Brothers Brewing Company offers eight year-round beers, nine seasonals and a number of artisan project releases throughout the year. Other Two Brothers ventures include Two Brothers Coffee Roasters, which produced over 75,000 pounds of small-batch roasted, specialty-grade coffee in 2015 and continues to experience growth rates over 100% in 2016. Producing award-winning products with equal parts craftsmanship, creativity and conscience, Two Brothers Brewing Company remains 100% family owned and staunchly independent.