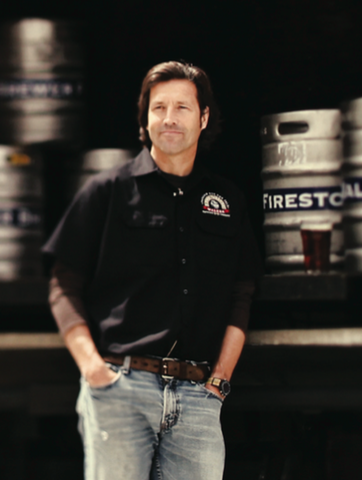 Brewbound is excited to announce that David Walker, the co-founder of Firestone Walker Brewing Company, will be speaking at the Brewbound Session. The all-day event, which will be held on Dec. 4 at the Paradise Point Resort & Spa in San Diego, is a business strategy conference for craft brewers.
Under Walker's guidance, Firestone has grown to become one of the country's largest and most respected craft breweries. The company, which Walker and co-founder Adam Firestone started in 1996, is known for having one of the most beautifully balanced portfolios in the craft space.
While Firestone's core beers like Pale 31 and Pivo Hoppy Pils can be found at thousands of locations throughout its home state of California, it's the company's vintage series – which includes coveted offerings like Sucaba and Parabola — that has garnered national recognition from beer geeks and industry experts alike.
Firestone's recent growth is a case study in portfolio management: in an effort to satiate nationwide demand, Firestone slowly expanded the distribution of its higher-priced items to places like Oregon, Colorado, Texas and Massachusetts. But as the company added new markets, retailer and consumer interest in California skyrocketed, forcing Firestone to concentrate a majority of its production and sales efforts closer to home. But that's the beauty of having a balanced book. By offering a stable of some of the most sought-after beers in the country, Firestone was able to build a brand in markets where its core beers were not the primary focus.
Now, however, Firestone is tasked with a unique challenge: Do they double down and attempt to capitalize on the nationwide consumer demand for craft by investing in new capacity and broadening distribution of its core offerings? Or do they continue to focus on California and try to become the Golden State's most dominant regional player?
At the Brewbound Session, Walker will explain the strategic decisions that have helped Firestone grow into a top-20 craft brewery, discuss his vision of the future, and examine how the company will navigate a crowded an increasingly competitive craft landscape going forward.
The Brewbound Session, which will be held at the Paradise Point Resort & Spa, is a full-day conference for beer industry professionals. The event focuses on the strategic marketing, brand building and business development issues that most directly impact craft brewers. A variety of distribution, retail, investment and branding discussions are offered.
Questions? Contact Jon Landis at 617-231-8834 or jlandis@bevnet.com
About David Walker:
David Walker founded Firestone Walker Brewing Company with Adam Firestone in 1996. Some years later, and after more right decisions than wrong, the brewery gained a solid foundation as one of California's leading craft brewers. An earlier career develop ing businesses in the world of high tech did little to prepare David for the life of a brewer. He relies on a passion for pale ales, a bias for small enterprise, and his brewing peers to help him understand the daily riddle of building a brewery. He also spends a chunk of each year on the road, living beer and spreading the gospel of the craft beer revolution. But for him, it all starts at the brewery's home in Paso Robles. He says, "Our brewery is based in the middle of a great wine region, one that's unpretentious, growing and full of brilliant individuals; winemakers, farmers, artists and chefs. That's what makes us different, it's who we are, it's where we are."
About the Brewbound Session:
The Brewbound Session is a business conference addressing the topics that most directly impact the decisions craft brewers are faced with as they look to grow their brands. The event focuses on the business side of craft, offering brewers a unique opportunity to learn from and network with industry experts.