Editor's note: This article appeared in the December issue of BevNET Magazine. A second story on the growth of regional cider producers will be published on December 9. 
There's a sense of déjà brew when one looks at the trajectory of the cider category: the sweeter stuff has entered a period of weak performance – some even project negative growth – all thanks to the brands on the macro side of the business.
It wasn't always this way. Cider began a steep climb around 2010, when it started posting double-digit volume growth. Sales accelerated for the next few years and increased, on average, nearly 70 percent annually from 2012 to 2014, according to figures provided by the United States Association of Cider Makers (USACM).
However, the momentum slowed considerably in 2015 when the volume gain was just over 11 percent.
And, although final full-year 2016 numbers won't be available until around the second quarter of 2017, current year-to-date trends point to a decline in sales in 2016.
Chicago-based market research company IRI, which measures sales in most of the major off-premise retail channels, estimates that segment volume could be down in the high single digits for calendar year 2016 when all is said and done. For the 52-week period that ended at the end of September, 7.4 percent versus the same period in 2015.
"Cider is having a challenging year with regards to its sales," says Dan Wandel, principal in IRI's Beverage Alcohol Practice Area. "I attribute the soft sales primarily to increased competition across the total beverage alcohol industry. I do not think you can limit the competition to the beer category in this case."
One particular segment that may be one of the culprits is flavored malt beverages (FMBs). There's been a great deal of activity in that category, especially from the likes of Anheuser-Busch InBev.
The world's largest beer producer has enjoyed considerable success with its Ritas line, which started with Lime A Rita and continued with a succession of flavor extensions designed to offset losses when consumer interest in previous entries declined. The company also launched the Bud Light Mixx Tails lines, FMBs that emulate popular cocktail styles. And, late last year, AB InBev unveiled Best Damn Root Beer, throwing its hat into the ring of the surging new FMB sub-segment, hard soda.
The advent of hard soda may explain some of the erosion in cider consumption, at least in diverting trial by those who might otherwise dabble in the product or be looking for a beer alternative. At the very least, they're taking some of the shelf space that had belonged to cider brands – especially those owned by the macro brewers. So, for instance, in 2014 AB InBev put a lot of muscle behind its Johnny Appleseed cider brand. Now, it's aggressively marketing its Best Damn line, possibly taking retail space once reserved for Johnny Appleseed. Similarly MillerCoors – now a unit of Molson Coors following the AB InBev/SABMiller merger – has been putting considerable effort behind its Henry's Hard Soda line, which could be cannibalizing some of its Smith & Forge cider business.
So far, though, the big winner in the hard soda space has been neither an AB InBev brand nor a MillerCoors trademark, but Not Your Father's Root Beer, which, according to IRI data, generated more than $100 million at off-premise channels in 2015.
A Wauconda, Ill.-based company called Small Town Brewery created the brand (though most of its volume has been contract-brewed by LaCrosse, Wis.-based City Brewing) and its market presence expanded dramatically in the middle of 2015 after it signed a distribution deal with Pabst Brewing Co., and sold a stake to its owners.
Hard seltzers – essentially hard sodas without the flavor, color or sweeteners – also are exploding onto the scene and likely are wooing the cider-curious away from the category.
But the competition also may be coming from outside the beer and FMB markets entirely. Wandel suggests that the rise in flavored whiskeys could be a factor. Overall whiskey volume grew by about 4.9 percent to 59.4 million 9-liter cases, according to the Distilled Spirits Council. Flavored whiskeys, which now account for more than 14 percent of the total whiskey market, grew by 36 percent in 2015.
It's important to note, however, that those categories are pulling consumers mostly from the largest-volume cider brands and not the segment's very long tail – the craft sector, if you will. As the craft beer segment outperforms the overall U.S. beer category, the same dynamic is playing out in cider. The only real difference is that the overall cider category – inclusive of both the macros and the smaller brands – is a fraction of the size of the beer market and all of its data gets lumped together without the segmented nuances of the beer business. (For more on the growth of craft cider, see our sidebar on regional cider brands).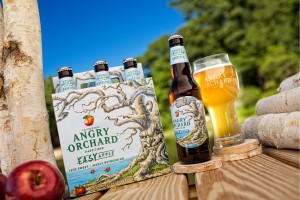 The No. 1 cider brand, Angry Orchard (owned by Boston Beer Co.) previously had been a category juggernaut, seeing annual volume increases around 90 percent as recently as three years ago.
But for the 52-week period that ended on Oct. 2, Angry Orchard volume had dropped about 10 percent versus the same period in 2015, according to IRI. Additionally, MillerCoors-owned Smith and Forge was down around 22 percent and AB InBev's Johnny Appleseed fell more than 75 percent.
Meanwhile, Reverend Nat's Hard Cider, one of the innovators on the craft side of the business, expects to finish the year with about 38 percent volume growth. Reverend Nat's, whose ciders tend to be drier than the generally sweet options among the macros, as well as more experimental (the cidery markets a line of offerings that incorporate hops into their recipes), usually attract more cider-savvy consumers than the macros do.
"We're seeing the same customers who were buying macro brands moving away from those ciders and into hard sodas," Reverend Nat's founder Nat West observes. "Those cider drinkers were never my cider drinkers; they were never my target market – just as craft beer is not necessarily dragging customers from Keystone Light."
Despite the downward volume trend for the overall cider category, some in the industry expect things to calm down fairly soon.
"There are some bright spots, as some smaller brands continue to show solid growth," says Brian Lechner, VP of professional services at market research firm Nielsen. "And, there is continued price appreciation in the category as consumers trade up to higher priced niche offerings."
Whether that trading up phenomenon accelerates depends more on availability at retail – especially in on-premise, where consumers are more likely to experiment – than on a surge in the number of new cideries.
"The amount of shelf space hasn't grown to keep pace with the number of new cideries," West pointed out. "Tap handles, too, may be stagnant or slightly decreasing. The advice I'm giving new cider people is start a pub – or do a combined thing, half of their own [brands] and half guest taps."