WINTER 2017 | NOV 29 | SANTA MONICA, CA
Latest News from Brewbound Session Winter 2017
Brewbound today announced the winners of its 2017 Brewbound Awards, which recognize the business efforts of beer companies across the U.S. First launched in 2014, the Brewbound Awards acknowledge breweries for their execution of various sales, marketing, and philanthropic initiatives. The awards also recognize large and small beer companies, as well as notable industry figures, for their impact on the category.
The Brewbound Session is just five days away, and there's still time to reserve your seat for a front row look at the future of marketing and selling beer in an ever-expanding high-end marketplace.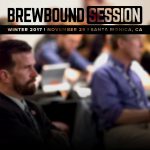 We're just three weeks away from our next Brewbound Session, happening on Wednesday, November 29 in Santa Monica, Calif., and we're excited to show off a first look at the agenda. Featuring multiple presentations and panel discussions with the alcohol industry's top thought leaders, we've designed the Winter 2017 event specifically to help serious beer industry professionals better understand and capitalize on the future of the category.
The next round of Brewbound's Startup Brewery Challenge goes down in less than 48 hours, and it's time to meet the players taking part in this one-of-a-kind business pitch competition. Presented by Craft Brew Alliance, Startup Brewery Challenge 9 will give five emerging brewery entrepreneurs the opportunity to showcase their beers and business plans on stage at Wednesday's Brewbound Session.
In just six days, Brewbound Session's official Welcome Reception will bring together some of the brightest minds in beer for casual conversation before the big show. Conference attendees will have the opportunity to share stories and advice with fellow beer industry professionals over a couple locally crafted beers.
Earlier this year, Ninkasi Brewing co-founder Nikos Ridge stepped back from his role as CEO, naming then-COO Cheryl Collins as his replacement. The pair will speak at the upcoming Brewbound Session, which takes place on Wednesday, November 29, at the Lowes Hotel in Santa Monica, California. Together, Ridge and Collins will share lessons learned from growing into one of the largest U.S. craft breweries in just 10 years.