Slow growth isn't always sexy, but it's smart.
That was the key takeaway during this month's Brewbound Session, held on Dec. 3 in San Diego — and an idea that many of the day's presenters honed in on as they shared advice and business lessons with nearly 250 beer industry professionals.
Sifting through the day's presentations and panel discussions, a common theme emerged: even amidst eye-popping valuations and double-digit volume increases, patient, sustainable growth is the most effective way to build a strong business in today's crowded craft environment.
Three presenters, in fact, Odell Brewing founder Wynne Odell, New Holland Brewing vice president Adam Lambert, and Devils Backbone founder Steve Crandall — who presented alongside his COO, Hayes Humphreys — each explained that the conscious control of certain elements of a brewery's finances can lead to both a healthier business and a better bottom line.
In his presentation, Lambert showed a blueprint for how to become a more profitable brewery, emphasizing predictable, manageable growth.  
"It's ok to be in the middle ground," he told an audience comprised of brewers, distributors and investors. "Having modest, executable goals is actually pretty normal and it's a measure of great success."
Following a year marked with extraordinary transactions and staggering industry growth, Lambert stressed the importance of not becoming distracted by large numbers. In his mind, these kinds of striking events should be viewed as outliers rather than standards to model a business after.
"I think growing in a controlled, methodical fashion is actually better than this explosive growth that a lot of people are having right now," he said.
That approach echoed the principles espoused by the first presenter of the day, Wynne Odell.
Odell described a conservative approach to scaling production and broadening distribution, showing that the choices her company made early on allowed it to achieve success through controlled growth.
From the outset, Odell said, the three founders of Odell Brewing decided they wanted full control over their business and the quality of their beer. They achieved this by retaining full ownership of the company, steadily entrenching themselves in markets around their home base, and, early on, staying frugal: In its early years, if the owners could not purchase or pay for something with readily available cash, they didn't buy it, she said. Relying solely on cash flow kept the company from growing too quickly and from acquiring debt the owners couldn't afford.
One investment the company did make was in independence — using profits from its first year of operation, the founders bought out initial investors.
"Certainly one of the best moves we've ever made is to buy that back," she said.
In addition to the buyout, the founders kept things small, deciding they could control product quality and the company image by fortifying their position in Colorado and slowly broadening distribution into contiguous states.
"The further you ship your beer, the less control you have over the quality and presentation of it," she said.
Colorado still represents 60 percent of the brewery's distribution and Odell products are only sold in 11 states — but Odell is now the 34th largest craft brewery in the U.S., according to the Brewers Association, projecting 111,000 barrels in 2015.
Playing the long game still enabled Odell's founders to eventually cash out, however — in July, the company sold 51 percent back to the management team and 19 percent to an employee stock ownership plan.
A tight distribution footprint is something that also worked well for Virginia's Devils Backbone, as COO Hayes Humphreys and founder Steve Crandall took the stage and described the issues faced by new, rapidly-growing breweries. Founded in 2008 as a backwoods brewpub, Devils Backbone is now the largest brewery in Virginia — the company expects to produce about 65,000 barrels this year, just three years after going into outside distribution.
That kind of high demand and fast success might seem ideal, but Humphreys and Crandall described it as a constant struggle.
"The one thing people say is 'oh, you don't have enough beer — that's a good thing,' — that's the absolute worst thing," said Crandall.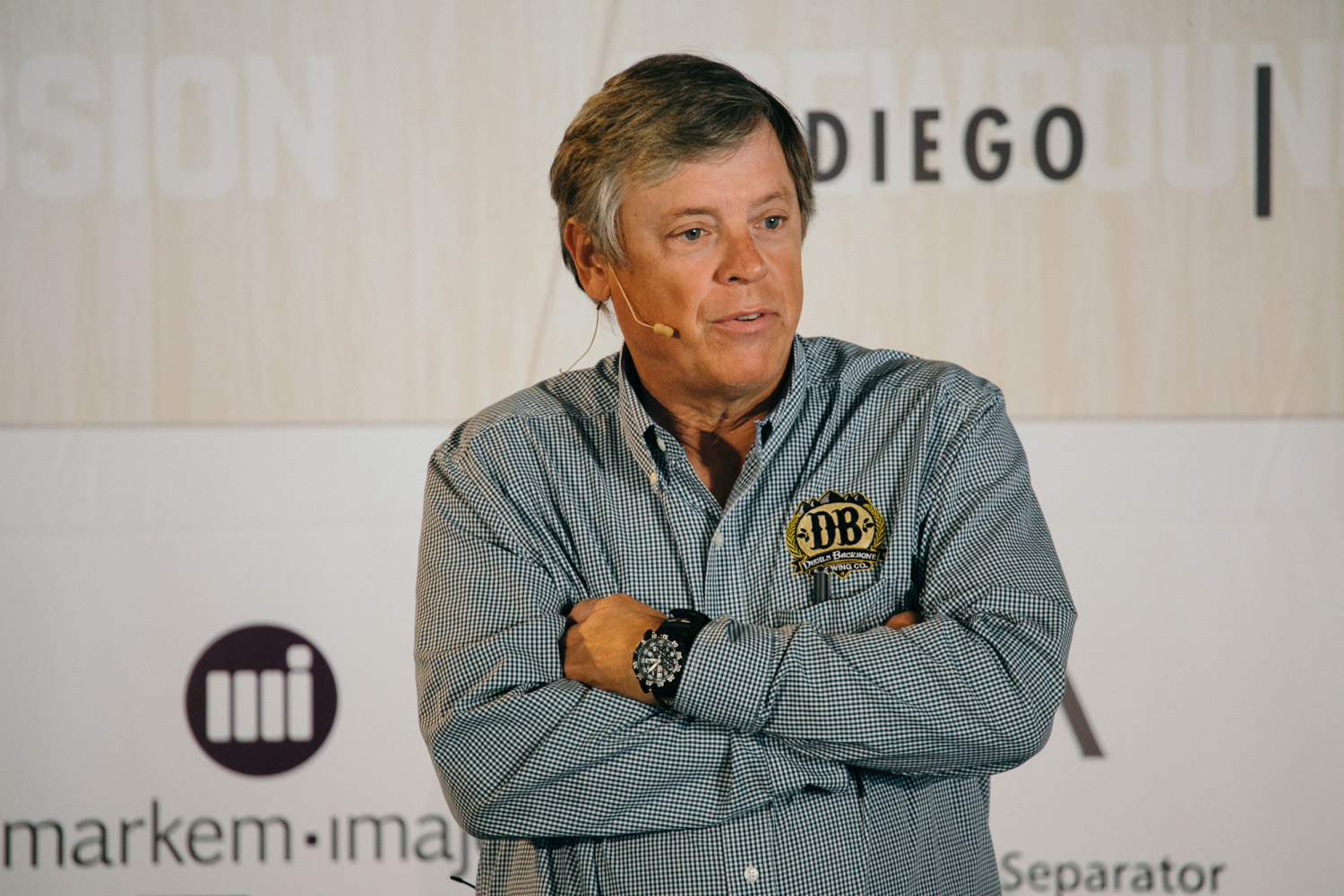 He explained that at Devils Backbone, local demand has routinely impeded the company's ability to expand into new markets — but that has had the odd effect of helping make the process of brewery expansion somewhat more manageable, particularly in terms of more consciously considering new growth opportunities. Now, Crandall and Humphreys have learned the importance of saying 'no.'
Early on, "we did a lot, we did everything, we said yes to every opportunity that walked through the door," Humphreys said. "As we've evolved we've tried really hard to think about 'what are the key components of our success and how do we kind of double down on those things?'"
As a result, the company has a strict policy of turning down anything it's not completely sure it can manage, like new distribution. This not only helps to protect the brand's image, but also the consistency of the brewery's production and sales. Humphreys and Crandall say they refuse to let the brewery's service in its home state suffer. Capacity limitations put them at risk of shorting distributors and retailers, something the company always tries to avoid.
"These distributors have made commitments," Crandall said. "That is the biggest thing I've learned — you don't want to short your distributors."
But that's balanced with a sense of opportunity — after all, the duo suggest being flexible. Last year, Devils Backbone earned placement in more than 930 J.D. Weatherspoon pubs — located throughout the U.K. Unfamiliar with export rules and the new marketplace, Humphreys initially shied away from international expansion opportunities. But when Weatherspoon suggested a contract brewing arrangement, Humphreys and Crandall made an exception.
And if all else fails, sometimes you just need to improvise.
"There's no guidebook on how to go through this," said Crandall. "How to build the infrastructure and the people and the mechanisms that are involved. So you have to go through it."