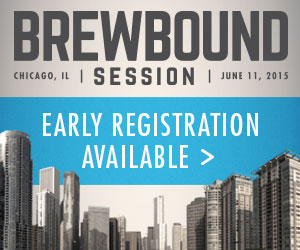 Brewbound Session Chicago '15 – a one-day conference focused on the business of craft beer – will be held on June 11 at Moonlight Studios in Chicago. You can save up to $100 by signing up now with the early registration discount.
**After May 8th prices increase by $50 for breweries and $100 for other attendees.
The 2015 program, though not yet finalized, will feature a variety of high-caliber presentations and panel discussions. Our previous event included an impressive list of speakers and an agenda with a wide array of craft beer business topics. Featured speakers at Brewbound Session San Diego '14 included:
Andy Thomas, CEO, Craft Brew Alliance
David Walker, co-founder, Firestone Walker Brewing
John McDonald, founder, Boulevard Brewing
Mike Hinkley, co-founder, Green Flash Brewing
More than 225 brewers, distributors and investors are expected to attend our Chicago event, which offers beer professionals an excellent opportunity to learn strategies in marketing, investment, and distribution specific to the fast-growing craft beer category.
What Attendees are Saying:
"The Brewbound sessions are unparalleled in terms of both content and networking. Members of the 'Karl Strauss Brewing Company' team come from organizations like MillerCoors, E&J Gallo Winery,and Southern Wine & Spirits. Even though we have a strong Beverage Alcohol background, we learn something new every time. The Brewbound sessions are "must-do" activities for our team!" – Marc Martin, VP of Beer, Karl Strauss Brewing Company
"I was very impressed with how the conference was run, the quality of the content and speakers and the ease with which you guys seemed to pull everything off. My marketing guys and reps will absolutely be attending future sessions." – Joey Redner, Founder, Cigar City Brewing Co.
"As both an attendee and presenter at numerous Brewbound conferences, I have come to appreciate the hard work and effort that goes into such a top notch event. The presentations are amazing, the speakers are succinct, and a great learning environment is always on tap. I'm excited they exist and can't wait to be part of the next one." – Tomme Arthur, Director of Brewery Operations, Port Brewing and The Lost Abbey

About the Brewbound Session:
The Brewbound Session is a business conference addressing the topics that most directly impact the decisions craft brewers are faced with as they look to grow their brands. The event focuses on the business side of craft, offering brewers a unique opportunity to learn from and network with industry experts.
About Brewbound.com:
Published by BevNET.com, Inc. Brewbound.com is dedicated to covering the rapidly evolving craft beer industry. Brewbound delivers daily content via www.brewbound.com and the Brewbound email Newsletter. Content includes: new product launches, analysis of industry trends, video interviews with industry leaders, expert beer reviews and exclusive content from craft beer events.