"What is your favorite beer style?"
The question was asked to everyone attending the Witch Hunt Brew Day (#2) at Barrel Theory in St Paul, Minnesota. While the group was waiting to enter the next part of the educational tour — which included learning how Barrel Theory uses and maintains wine barrels to ferment its beer — we seized the opportunity to reflect on our beer preferences. Given the roundtable setting, I was the first to go. However, I was stumped.
For as many styles as I could name, I'd only tried a handful. I eventually landed on the pale ale, a diverse and tasty choice, but still felt thrown for a loop at my current lack of knowledge.
The vast majority of my beer-related experiences in life prior to entering the workforce had taken place in college, but slowing down to enjoy the complexities and aromas of a craft beer weren't often practiced. It was only last August when I got a job in the brewing industry, at BSG, that I was able to begin my education in the world of craft beer. Thus far, it's been a bewitching experience. I'm frequently baffled by how much I didn't know, and even more stunned to discover how much more I want to know.
When it comes to learning about craft brewing, hands-on experience can be everything. This is one of many takeaways I had while participating in the Witch Hunt guided brew day.
Witch Hunt is an organization in Minnesota that strives to educate and include women and nonbinary individuals in the beer industry. They foster pathways to educate underrepresented people who want to discover their passion for beer. On the Witch Hunt website, they mention how women had traditionally been the producers of beer, dating all the way to the first fermentation. From as early as 9000 BC in China, women gathered various ingredients –some of the earliest were honey, rice, and fruit — and mashed them into different brewing recipes. It was considered a woman's task, but once beer became a commercial property, women were barred from owning what they founded. Women who continued to sell beer were deemed witches, identified by their tall pointy hats in the marketplace, broomsticks over their doors showing open business hours, and massive cauldrons in which their beer was made. Sound familiar? It's these same witches — the brewsters who pushed back against the patriarchal system — that Witch Hunt names itself after. To continue the traditions of its namesake, Witch Hunt hosts brew days to educate people on beer — like the one we participated in at Barrel Theory.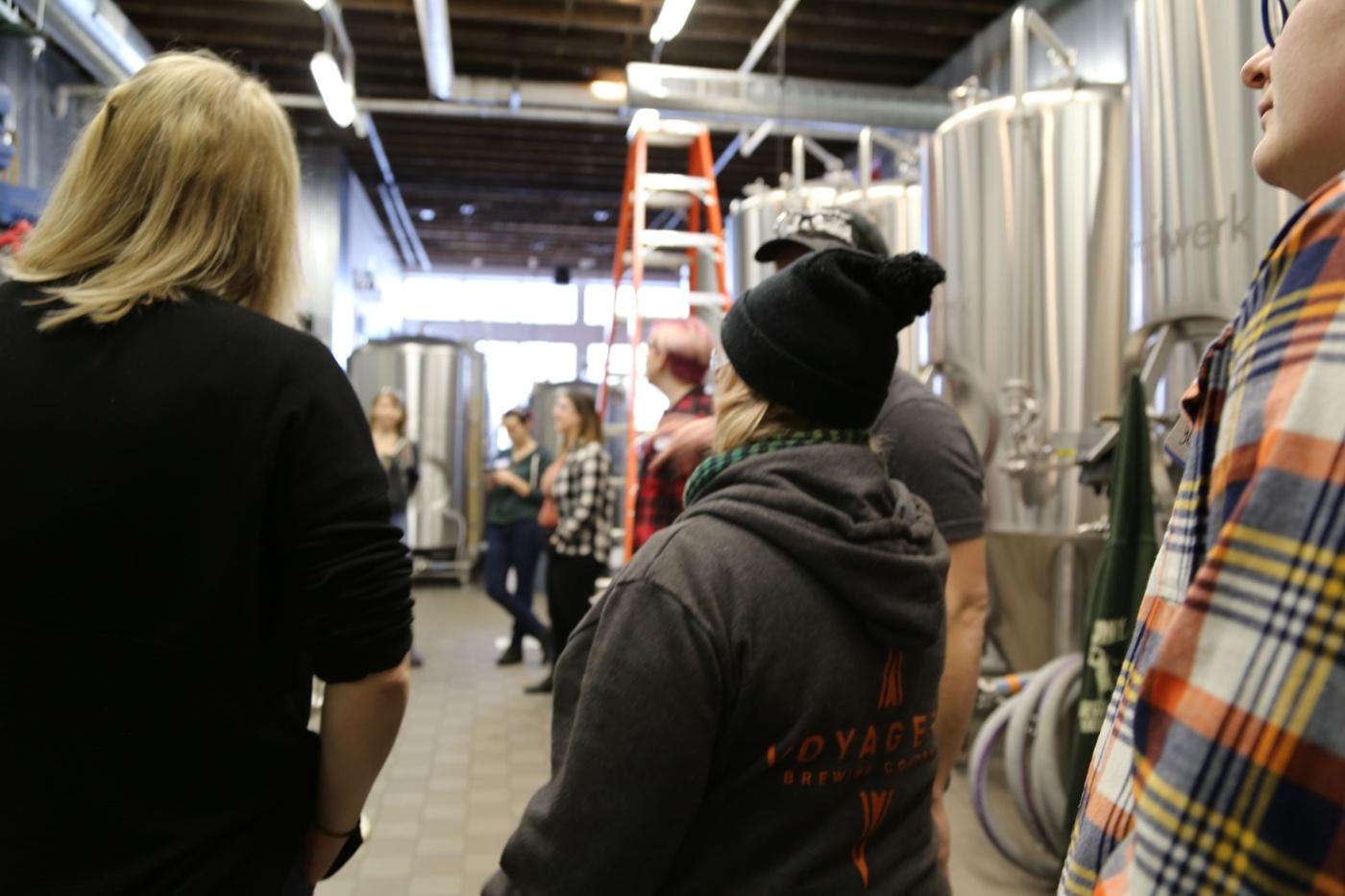 The day consists of as much of the brewing experience as possible. Once we were introduced to each other, the women of Witch Hunt who would be guiding our tour, and the brewers at Barrel Theory, we got to work. We sampled the acid malt for the day's recipe of a sour beer, and everyone got the opportunity to pour the malt into the auger. As we learned about bed compression in tanks and watched the malt we poured get mixed into a thick mash, there was a sampling of one of Barrel Theory's fruiter concoctions, still in the tank. We shifted back to the main room to learn about fermentation and yeast, which is a lot more exciting when you know next to nothing about what is used in the fermentation process.
One such yeast that was entirely new to me, but certainly not to brewers, was the famed Brettanomyces. Brettanomyces — more commonly known as Brett — is a wild yeast that is used to devour leftover sugars left behind by the initial yeast, very commonly Saccharomyces. Some recipes call for Brettanomyces to be pitched in place of Saccharomyces, which will bring out the tropical fruity notes that makes the wild Brettanomyces strain such a rising star in yeast..
For our mixed fermentation beer, the recipe included pitching Brett, Sacch, and a couple other strains right into the wort-filled barrel. According to Rose Picklo, one of the co-founders of Witch Hunt, the cultures that were added were from Wild Minds/Mat Waddell, Fair State, and Jester King. All likely had lactic acid bacteria and acetic acid bacteria. These acids make the resulting beer tart and tangy. Our group continued with the brew, from boil to run-off to fermentation. The last step took place in the barrel room, filling the behemothic former wine barrels with the wort to be safely tucked away until ready for consumption.
The entire day was filled with fun and learning. The experience showed me another side of a multifaceted industry that I continue to learn more about every day. Before starting at BSG, craft brewing and other corners of the beverage industry weren't areas I viewed as potential for career opportunities. Not through lack of interest, but through lack of opportunity and education. Now that I've gotten the opportunity and discovered my interest, it's up to me to continue my education. Witch Hunt's ways of educating women and nonbinary individuals arm those of us fresh to the industry with the tools we need to craft our path forward.
The craft brewing industry grows more every year, and with it the number of people needed to keep that momentum going increases. Women stepping back into craft brewing enables more minds and enhanced ideas to flow into each recipe. If two heads are better than one, think of what adding thousands of experienced industry veterans and novices alike could do.
If you're interested in learning more about beer and craft brewing, I encourage you to check out Witch Hunt's website and see if there's a brew day coming up near you. There's also a mailing list and Facebook page to keep up to date with their educational and networking events.