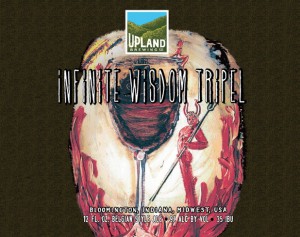 Bloomington, IN — Upland Brewing Co. today announced that Infinite Wisdom Belgian Tripel will be available on May 1st in 4 packs and on draught. It will be available on draught at all Upland locations May 8th.
This Belgian Tripel is a sly devil. A beautiful golden haze coupled with an enticing aroma of citrus and banana may seem sweet but don't be fooled. It'll creep up on you quick. Sometimes, the best things are like that. Similar to how our featured artist, Norton Wisdom works… the inspiration muse creeps up on him, and he must follow the flow. Wisdom has performed live with musicians on stage, creating art as he is inspired by the music he hears. This beautiful, slightly wicked Belgian ale is our tribute to him.
Beer Description: A strong Belgian-style ale that has a long fermentation period using classic Belgian yeasts. The nose contains banana and citrus notes, while a complex fruitiness and light warming sensation are experienced upon tasting.
About the Brewery:
Located in Bloomington, Indiana, Upland's rich history dates all the way back to 1998. Taking traditional recipes and making them a bit more awesome, Upland Brewing Co. came up with their own recipes rooted with inspiration from good beer and good friends, providing a fresh local option to their communities. The name Upland comes from the term geologists gave to this area of Southern Indiana land which was never overrun by the glaciers that flattened much of Indiana's landscape. The adversity of the land bred independent thinkers who had strong wills, a connection to the land, and a wry sense of humor about life. Upland's approach to brewing beer honors the spirit of these people and this place.