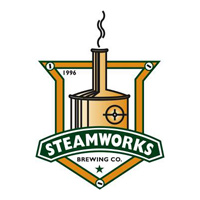 DURANGO, Colo. — Firkin Fridays continues at Steamworks Brewing Co. with the monthly "firkin" tappingFriday, Aug. 2, 2013, featuring a special West Elk IPA. The cask will be tapped at 3 p.m.
For the West Elk IPA, Steamworks Brew Master and Certified Cicerone Ken Martin has taken the brewery's popular Conductor Imperial IPA and kicked it up a notch.
"Our Conductor, which is our most heavily hopped beer, has already had its normal dry hopping, but in the firkin we dry hopped it again with whole cone nugget hops from West Elk Hop Farms in Paonia, Colo.," said Martin, explaining that West Elk is an organic hop farm, and Steamworks has been experimenting with some of its crops. "This secondary hopping with these whole cone hops that are in their natural form — but have been kiln dried straight off the vine — will give the already piney, spicy and resinous Conductor even more of the same character but with a unique freshness."
"In the United Kingdom cask-conditioned beer, which we call a firkin, is known as 'real ale,'" said SteamworksBrewer and Certified Cicerone Spencer Roper. "Authentic cask ale must be kept at 'cellar temperature' — which is about 54 degrees — as it's conditioned in its cask, and that's what we do in the 'cellar' — the basement — at Steamworks."
In cask conditioning, the yeast transforms the sugar into alcohol within the cask, and carbonation results from the trapped carbon dioxide occurring as a byproduct. Firkin beer is unpasteurized and unfiltered and served at cellar temperature – cool but not cold.
"To those who know — and we're seeing an increasing number of sophisticated craft brew aficionados — firkin beer is complex and nuanced, with a delicate, natural carbonation," said Martin.
A firkin is an old English unit of volume, typically a wooden cask equal to approximately one-quarter of a regular barrel, or nine/ten gallons. The word "firkin" is derived from the Middle Dutch word vierdekijn, which means "fourth" as in one-fourth the size.
Steamworks initiated its Firkin Fridays to introduce unusual, specialty craft beers to patrons, and augment its regular, award-winning offerings. Steamworks, open 11 a.m. to closing seven days a week, is located at 801 E. Second.