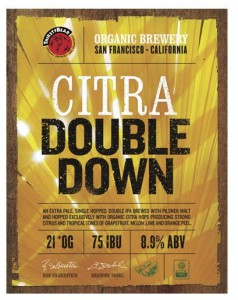 San Francisco, CA –– Downtown San Francisco craft beer haven ThirstyBear Organic Brewery joins beer enthusiasts, breweries and bars across the globe last Thursday in a collective toast to one of craft beer's most iconic styles: India Pale Ale. To celebrate "IPA Day" (Aug. 6, 2015), ThirstyBear releases a special limited-edition summer seasonal Citra Double Down, which is generously hopped at 75 IBUs and 8.9% ABV. Originating as a new hop varietal in 2007, Citra has fast become a bold hop favored amongst brewmasters in making West Coast style IPA's. Citra Double Down is a single hopped Double IPA brewed with Pilsner malt and hopped exclusively with organic Citra hops.
"I was talking to a hop purveyor and he had some organic Citra available for spot purchase, so I grabbed as much as I could," says ThirstyBear Brewmaster Brenden Dobel. "In order to really highlight the Citra, I decided to go big and brew a Double IPA. Citra Double Down is brewed with lightly kilned organic Pilsner malt and no Crystal malt so as not to take away from the Citra hop impact. Organic Citra was used for bittering, flavor and aroma in the kettle and then dry-hopped again with organic Citra post-fermentation to really showcase the aromas of grapefruit, melon, lime, mango and orange peel. The finished beer came in with a beautiful golden color and a snow white head of foam."
Only available on draught at ThirstyBear, Citra Double Down will be included in today's flights of five different IPA's (5 oz. each, $15/flight), which also includes Hop Clown Double IPA, Howard Street IPA, Cask-Conditioned Howard Street IPA, and Cask-Conditioned Citra Double Down.
Citra Double Down will also be a featured pairing next week with the "Brews, Ewe's, & BBQ's" national event taking place at ThirstyBear Organic Brewery. Executive Chef Robert McCarthy has been selected as the only Bay Area chef to partake in the celebrated event hosted by the American Lamb Board. From August 10 – 14, 2015, McCarthy will feature a nose to tail lamb menu with select beer pairings. Citra Double Down will be paired with Grilled Loin Chop, Lemon-Mint Gremolata, Marinated Fava Beans and Piquillo.
ThirstyBear organic craft beers are available fresh, only on draught, only at ThirstyBear!
About IPA Day: 
Founded in 2011, IPA Day is a universal movement created to unite the voices of craft beer enthusiasts, bloggers and brewers worldwide, using social media as the common arena for connecting the conversation. IPA Day is not the brainchild of a corporate marketing machine, nor is it meant to serve any particular beer brand. IPA Day is an opportunity for everyone in the industry as well as craft beer fans to connect and share their love of IPA's. It is an opportunity for the entire craft beer culture to combine forces and advocate craft beer through increased education and global awareness. Please help spread the word through the hashtag, #IPAday. 
About ThirstyBear Brewing Co.
Established in 1996, ThirstyBear Organic Brewery is the first and only brewery in San Francisco to brew certified organic beer and become a certified Green Business. Born out of Founding Brewmaster Ron Silberstein's longstanding commitment to support sustainable agriculture, ThirstyBear brews CCOF and FDA certified organic beer with the finest hops and grains. ThirstyBear sources its ingredients from the world's most renowned malt houses and premier West Coast organic hop farms to distinctly pair their craft beers with its exquisite Spanish cuisine. Since 2002, Silberstein has collaborated with Brewmaster and Certified Cicerone Brenden Dobel to define a singular German-influenced West Coast style of brewing, with a special emphasis on pilsners, IPAs, stouts, Belgian-inspired ales, cask conditioned ales, session beers, and barrel aged brews. Dobel's expertise with German beer styles is the result of his extensive training at Doemens Brewing Academy in Munich, Germany.
As one of the first critically acclaimed Spanish tapas restaurants to open in the Bay Area, ThirstyBear's Executive Chef Robert McCarthy churns out some of the city's top paella, tapas, charcuterie/cheese and beer pairings, flatbreads, 100% grass-fed beef burgers, and specialty dishes cooked not only with beer, but with beer's raw ingredients (hops, malts, yeast). In addition to its year-round and seasonal craft beer line-up, ThirstyBear also proudly serves local wines from kegs to reduce its overall carbon footprint.
According to the Brewers Association, which keeps the most comprehensive information on craft breweries in the United States, ThirstyBear brews and serves more craft beer in-house than any other brewpub in San Francisco.