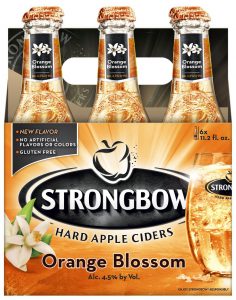 WHITE PLAINS, N.Y. — Strongbow Hard Apple Ciders, the number one selling global cider brand, unveils its newest flavor, Strongbow Orange Blossom. The new flavor delivers a fresh, spring-like orange blossom aroma with a touch of sweetness and a juicy apple finish. Strongbow Orange Blossom, along with all Strongbow products, contain no artificial flavors or colors.
"We are welcoming spring this year with the newest edition to the Strongbow family of hard ciders, and are excited to share Strongbow Orange Blossom with our fans!" said Jessica Robinson, Senior Director Strongbow, who was involved in the development of the new flavor. "Strongbow Orange Blossom, a fresh remix of natural flavors, has received consistently high taste test ratings, appeals equally to men, women, cider and non-cider drinkers, and has a higher trial potential than the leading hard soda brand. Consumer research during the new flavor development also revealed that 8 of 10 consumers say Orange Blossom is "good tasting," "easy to drink," and "refreshing". And overall flavor trends are on our side –orange is a top 3 flavor driving growth in flavored spirits, Robinson continued."
Over the past year, Strongbow has outperformed the hard cider category by over 20% and grew to become the #2 hard cider brand in the U.S. 4 Its Gold Apple flavor was recognized as the Best Tasting Hard Cider in the Common Cider category for two years in a row at the World Cider Championships.
"Strongbow is known for its 125 years of cider-making heritage and its portfolio of award-winning flavors, and we know our consumers are curious and always looking for new and exciting flavors," said Robinson. "Strongbow Orange Blossom represents our relentless commitment to quality, taste, and product innovation. We recommend serving Orange Blossom over ice to help bring out its distinctive orange blossom aroma, and enjoy its crisp refreshing taste."
Supported by TV advertising, consumer sampling, and in-store merchandising, Orange Blossom will be launched in six-packs during the month of March and will simultaneously replace Strongbow Ginger in the 12-bottle Strongbow Variety Pack, alongside Strongbow Gold Apple, Strongbow Honey, and Strongbow Cherry Blossom. To drive trial and awareness of the new flavor, the same four flavors will be offered in limited edition 4-pack mini cans for a suggested retail price of $1 starting in March. Strongbow Orange Blossom will also be competing at the 2017 World Cider Championships.
All flavors in the new Variety Pack are gluten-free and sold in 11.2 oz. bottles. Strongbow Gold Apple and Strongbow Honey are 5% ABV, while new Strongbow Orange Blossom, Strongbow Cherry Blossom and Strongbow Ginger are 4.5% ABV. To find all Strongbow flavors near you, please visit our product locator at www.Strongbow.com. Strongbow recommends enjoying its hard apple ciders served over ice, for a crisp, refreshing taste.
About HEINEKEN USA
HEINEKEN USA Inc., the nation's leading upscale beer importer, is a subsidiary of Heineken International NV, the world's most international brewer. European brands imported into the U.S. include Heineken, the world's most international beer brand, Strongbow Hard Apple Ciders, Amstel Light, and Newcastle Brown Ale. HEINEKEN USA also imports the Dos Equis Franchise, Tecate Franchise, Sol, Indio, Carta Blanca and Bohemia brands from Mexico. For the latest information on our company and brands, follow us on Twitter @HeinekenUSACorp, or visit HEINEKENUSA.com.