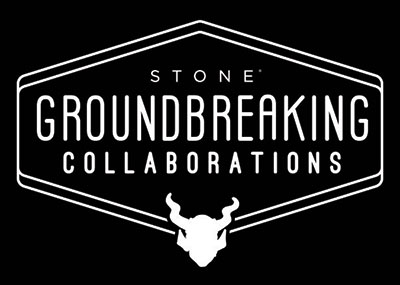 ESCONDIDO, CA (July 19, 2014) — Today, San Diego-based Stone Brewing Co. is launching its first ever crowd-participation campaign on Indiegogo, and inviting fans to join them in a craft beer revolution by purchasing special collaboration beers to be brewed at the newly announced Stone Brewing Co. — Berlin once it's operational.
Stone is joining forces with a number of its craft beer brethren to brew a series of beers under the name Stone Groundbreaking Collaborations. These intense, no-holds-barred, spare-no-expense beers will be $50 per 1.5-litre commemorative bottle. Additional, uniquely Stone-style perks will also be available throughout the campaign. Fans interested in contributing to the movement will receive the distinction of becoming "Cross-Planetary Brewing Revolutionaries."
"This is the era of the craft brewer," said Greg Koch, Stone CEO and Co-founder. "This is our time, and this is our place. But we need our fans, and people who simply love and appreciate quality craft beer, to join us because this revolution isn't about one person or one brewer. It's about all of us. We're going to make some amazing beers for those who join the fight—our Cross-Planetary Brewing Revolutionaries. And we'll be doing it with some of our best friends in the industry. It's a road less traveled, but that's what we and our collaborators are all about. At Stone, we've been changing expectations and challenging the status quo for nearly 20 years. We welcome fans and are excited to have them join us in this new chapter, so they can be a part of the next phase of our quest for making the world safe for great craft beer."
Money raised through the Indiegogo campaign will be used to expedite the construction of the restaurant and garden components of Stone's new expansion projects: Stone Brewing Co. — Berlin and Stone Brewing Co. — "East of the Mississippi" (the exact location has yet to be determined, but will be soon). Each location will include a production brewery, packaging and distribution operations, farm-to-table restaurant, gardens, and retail store. It will take everything Stone has, plus everything that Stone could borrow, to build the brewing and distribution operations at both locations. Construction will happen in phases, with the gardens and restaurant built last. Instead of selling equity to a bunch of rich suits to ensure the restaurant and gardens are up and running sooner rather than later, Stone is seeking the support of fans, since they have helped propel the company into the position of 10th largest craft brewing company in the U.S., and soon, that of the first American brewery to own and operate a brewery in Europe. Having sworn to remain fiercely independent and "Never Sell Out!," Stone would rather answer to craft beer-loving fans than investment companies that are focused solely on the bottom line.
Yes, Stone is a brewery, but Stone also creates unique spaces that bring craft beer fans from all over the world to enjoy the breadth and scope of the community. Making possible the experience of relaxing in a lush garden while sampling locally grown, organic food that pairs well with an artfully crafted beer is what sets Stone apart. The Cross-Planetary Brewing Revolutionaries will help expand on that by helping fund the creation of more of the greatest beer-drinking destinations in the world.
Entry into the society of Revolutionaries is simple: Visit the Stone Brewing Co. Indiegogo page and make a purchase. While both expansion projects are happening, Stone will enlist the Revolutionaries to help expedite the construction of the award-winning and uniquely Stone environments that welcome craft beer enthusiasts from across the globe and provide the full Stone experience.
About Stone Brewing:
Founded by Greg Koch and Steve Wagner in 1996, San Diego-based Stone Brewing Co.is the 10th largest craft brewer in the United States. Stone has been listed on the Inc.500 | 5,000 Fastest-Growing Private Companies list nine times, and has been called the "All-time Top Brewery on Planet Earth" by BeerAdvocate magazine, twice. The multi-faceted company will be the first American craft brewer to independently own and operate facilities in Berlin, Germany, and also has plans to open a brewery and restaurant east of the Mississippi. Known for its bold, flavorful and largely hop-centric beers, Stone has built a reputation on brewing outstanding, unique ales while maintaining an unwavering commitment to sustainability, business ethics, philanthropy and the art of brewing. For more information on Stone Brewing Co., please visit stonebrewing.com or the company's social media sites: Twitter, Facebook,Instagram, Google+, YouTube and The Stone Blog.