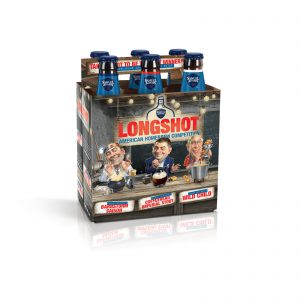 The Samuel Adams LongShot American Homebrew Competition was started in 1996 by Jim Koch, founder and brewer of Sam Adams, to recognize and support the homebrewing community where he and many other professional brewers got their start. In the time since, 1.2 million drinkers are now homebrewers and there are more than 5,300 breweries in operation today compared to 1,000 twenty-one years ago. In fact, multiple past LongShot winners have gone on to become professional brewers, opening their own independent American breweries including 2015 winner Tim Thomssen, brewer at Boiler Brewing Company in Lincoln, NE; 2013 winner Cesar Marron, brewer at Sketchbook Brewing Co. in Evanston, IL; 2009 winner Mike Robinson, brewer at Newburyport Brewing Company in Newburyport, MA; and 2006 winner Don Oliver, brewer at Dust Bowl Brewing Co. in Turlock, CA.
Jim Koch, founder and brewer of Samuel Adams, on homebrewers:
"The craft beer industry continues to grow because of homebrewers who take their passion of homebrewing and pursue it professionally." said Jim Koch, founder and brewer of Samuel Adams. "In the 20 years of hosting our LongShot American Homebrew competition, we've identified the best of the best homebrewers some of which have gone on to become professional brewers, opening their own innovative breweries and contributing to the craft beer revolution."
Limited Release Availability:
The Samuel Adams LongShot Pack is available in six-packs of bottles nationwide in select retail stores for a suggested retail price of $9.99-$10.99. The pack will include two bottles of David Cousino's Barnstorm Saison, Duane Wilson's Wild Child and Graham Johnson's Coffeehead Imperial Stout. To Celebrate American Craft Beer Week, limited release draft will be available at tap takeovers and beer festivals nationwide.
About the LongShot American Homebrew Beers & Brewers: David Cousino's Barnstorm Saison (7.8% ABV)
David's saison blends a soft malt character from white wheat with delicate floral notes from English hops, and finishes crisp with a hint of pepper from Belgian yeast.
"In my profession as a pharmacist, everything is hard science. While that serves me well in this hobby, it does not begin to describe the magic of fermentation. I created the best I can by calculating, measuring, and observing. Then the real magic happens. That transition from what I can control to what I cannot is the heart of the allure of this wonderful hobby," said David Cousino, a homebrewer since 1992.
Duane Wilson's Wild Child American Wild Ale (5.7% ABV)
Duane, who co-brewed with homebrewer Mike Edwards, created a mixed-fermentation American Wild Ale that leads with an aroma of stone fruits. Slightly sour with hints of clove, apricots impart a dry, fruit flavor and the brew finishes with a peasant, lingering tartness.
"I love to cook. Making beer's a lot like that. Homebrewers strive to make a lot of styles and we're always looking to improve them. I enjoy the engineering that goes into making a primo beer," said Duane Wilson, a homebrewer since 1995.
Graham Johnson's Coffeehead Imperial Stout (7% ABV)
Graham's Imperial Stout is aged on coffee beans and cocoa nibs imparting aromas of coffee, chocolate and hints of of raisin. This decadent stout has a full-bodied mouthfeel filled with dark chocolate, expresso and raisin flavor as well as hints of plum and tobacco while finishing clean with a lingering sweetness.
"I love the attention to detail and making something that you can enjoy. For me, it's a similar satisfaction to cooking a big holiday dinner, only it lasts longer," said Graham Johnson, a homebrewer since 2014 and Samuel Adams Longshot Employee Contest winner.
For homebrewers who are interested in the 21st annual LongShot American Homebrew Competition, watch for details on www.samueladams.com/longshot.
Samuel Adams, Boston Lager, LongShot, and American Homebrew Contest are registered trademarks of The Boston Beer Company.
About Samuel Adams and The Boston Beer Company
The Boston Beer Company began in 1984 with a generations-old family recipe that Founder and Brewer Jim Koch uncovered in his father's attic. Inspired and unafraid to challenge conventional thinking about beer, Jim brought the recipe to life in his kitchen. Pleased with the results of his work, Jim decided to sample his beer with bars in Boston in the hopes that drinkers would appreciate the complex, full-flavored beer he brewed fresh in America. That beer was aptly named Samuel Adams Boston Lager, in recognition of one of our nation's great founding fathers, a man of independent mind and spirit. Little did Jim know at the time, Samuel Adams Boston Lager would soon become a catalyst of the American craft beer revolution.
Today, The Boston Beer Company brews more than 60 styles of beer. It relentlessly pursues the development of new styles and the perfection of classic beers by searching the world for the finest ingredients. Using the traditional four vessel brewing process, the Company often takes extra steps like dry-hopping, barrel-aging and a secondary fermentation known as krausening. The Company has also pioneered another revolution, the 'extreme beer' movement, where it seeks to challenge drinker's perceptions of what beer can be. The Boston Beer Company has been committed to elevating the image of American craft beer by entering festivals and competitions around the globe, and is one of world's most awarded breweries at international beer competitions. As an independent company, brewing quality beer remains its primary focus. Although Samuel Adams beer is America's leading craft beer, it accounts for only one percent of the U.S. beer market. The Boston Beer Company will continue its independently-minded quest to brew great beer and to advocate for the growth of craft beer across America.
For more information, please visit www.samueladams.com.