Lincoln City, OR — The waves can reach 50 feet high, maybe more. Competitors enter the waves under their own strength and face down one of natures most dangerous forces. One mistake and they're in the biggest washing machine imaginable.
The Nelscott Reef Big Wave Classic (NRBWC) takes place in Lincoln City, Oregon and has been an icon on the shores there for many years. Today it is under pressure to step aside and let a giant corporate competition take over the reef. They come in with big money and sponsors but no room for those who first rode the reef and brought the Pacific Northwest it's first big wave competition.
"Nelscott Reef belongs to the people of Oregon who joyfully share it with the world. There is no room for corporate giants to push their way in, especially if it means pushing locals out," noted Ordnance's Managing Partner Craig Coleman. "This is why we have stepped in to be the beer sponsor, to support and reward those who face the reef and all it brings. We know what it's like to face corporate giants as they work to control the shelf space and taps for craft beer. It's hard work hold your ground and you need friends who believe in you."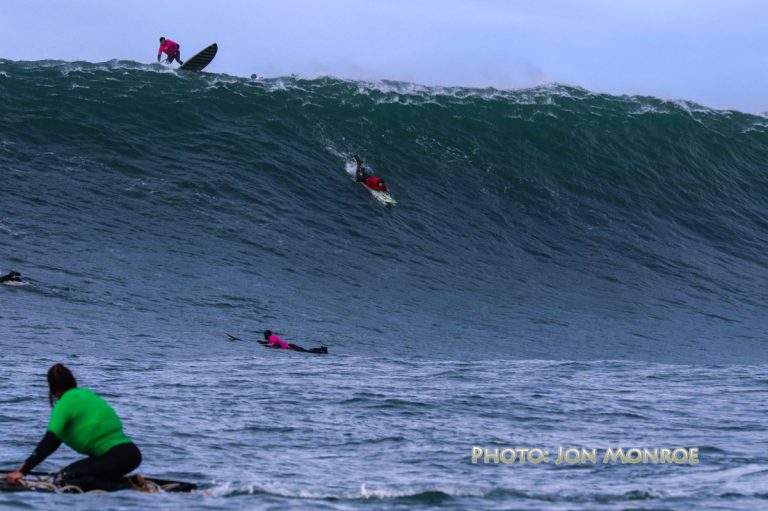 The Nelscott Reef Big Wave Competition, founded by John Forse, began in 2005 as the first tow-in big wave surfing contest in North America. After top big wave surfers proved that top athletes could paddle into the wave under their own strength, the contest evolved to a more traditional format in 2013. Competitors for the NRBWC come from all over the world with just a three-day advance notice that is given when ocean conditions are predicted to be ideal for wave conditions. The 2016  Uninvitational Pro Am held November 4th had surfers from Hawaii, California and the Pacific Northwest paddling in to compete. The 2016/17 Invitational is yet to be scheduled but organizers are watching forecasts and conditions daily. Details can be found at www.nelscottreefbigwaveclassic.com.
"We used to watch that reef and think no one would ever tackle the monsters crashing out there. We were wrong," noted Dewey Weddington, Ordnance Brewing Director of Sales & Marketing. "John Forse and a host of supporters not only rode the wave but have created a world class event that Oregon and the Pacific Northwest can be proud of. When I heard they needed a beer partner for their events it was an easy decision. We're the Outlier brewery and what else could be more of an Outlier than someone who pits themselves against the forces of nature in the form of a fifty-foot wave in the cold water off the Oregon shore?"
RX Pale Ale is the official beer of the Nelscott Reef Big Wave Classic and can be found on draft and in 22 oz. bottles across the Northwest. Why RX Pale Ale? "That beer is crisp, clean and has a hoppy edge but retains its heart and soul as a pale," noted John Forse, NRBWC Director. " It's kind of like the guys who paddle out into the clean waves of Nelscott. We're very happy to have Ordnance on the team and look forward to a long-term alliance. We're all outliers and have to have each other's back," Forse Added.
Founded in 2014, Ordnance Brewing is located in Boardman, Oregon. There in Oregon's Columbia Plateau, Ordnance operates a 50 barrel brew system with capacity to brew  to produce an expansive set of experimental beers and a core set that includes RX Pale Ale, Kolsch, EOD Double IPA, Bloops Blueberry Wheat and FMJ IPA. Ordnance Brewing is farmer owned and managed by Craig Coleman who has been farming in Oregon since he was twelve years old. The brewery maintains taprooms in Boardman and Wilsonville, Oregon.