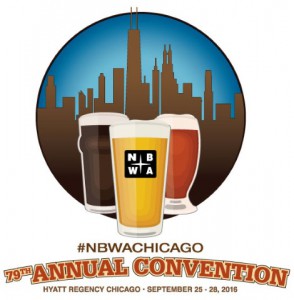 CHICAGO, IL – The National Beer Wholesalers Association (NBWA) kicked off the first full day of its 79th Annual Convention today at the Hyatt Regency Chicago in Chicago, Illinois.
NBWA's outgoing Chairman of the Board Travis Markstein reflected on beer industry developments over the past year and the state of the American beer industry saying, "Our industry, while not without its challenges, is strong. America is still the world's biggest, most profitable beer market."
"The American system of independent beer distribution benefits the beer consumer and the beer industry," Markstein said. "From small brewers to the world's biggest brewers, the system provides competitive and quality access to the globe's biggest beer market."
NBWA President and CEO Craig Purser said, "Disruption continues to transform our world. Our lives. Our industry." But, in the face of disruption – from global and homeland security to the world economy, politics and new technologies – he encouraged beer distributors to "turn headwinds into tailwinds" and "lean in" to the future.
"Disruption is the new normal for the beer industry as well, but with disruption comes opportunity," Purser said, highlighting increases in sales volumes, imports seeing positive trends, the continued increase in the number of U.S. brewers and the growth in craft brewery valuations.
Purser also cited three challenges that arise when nominal disruptors become the establishment, saying, "First, so-called disruptors start to behave like marketplace leaders … when it comes to beer, we've seen smaller-scale beer brands become dominant in their segment and work to limit competition from still smaller and newer brands."
"Second, disruptors become acquisition targets of larger, more established players," Purser continued, citing craft brewer deals that sent valuation shockwaves throughout the industry.
"Finally, establishment players and industry giants begin to disrupt their own markets," Purser said, noting the purchase of craft brewers by Anheuser-Busch InBev (ABI) and MillerCoors, along with the global merger of ABI and SABMiller.
Purser described how the ABI/SABMiller merger resulted in an extensive and exhaustive review of the industry by the U.S. Department of Justice, which issued a proposed final order that is a strong endorsement of America's open and independent system of beer distribution and aims to ensure that independent distributors "will have the freedom to sell and promote the variety of beers that many Americans drink."
"Thanks to a robust and competitive system of independent distribution, which provides access to market for brewers of all sizes, the U.S. is enjoying a new Golden Age for beer with unprecedented variety offered by more than 4,000 brewers," Purser said. "The winner in all of this is the consumer, who enjoys an incredibly broad spectrum of innovative beer produced by independent, local brewers; large, global brewers; and brewers from around the world."
Eric Best of Bob Hall LLC moderated a "Three Tiers Supporting the Independent Three-Tier System" panel discussion featuring Larry Bell of Bell's Brewery Inc.; Pat Brophy of Binny's Beverage Depot; Rebecca Newman of Summit Brewing Co.; and Michael Schilleci of Supreme Beverage Co., Inc.
The panel of brewery, distributor and retailer voices discussed how the tiers work together to meet consumers' demands for choice and value. They also highlighted the importance of product quality in today's hyper-competitive beer industry. Bell noted, "If we want to bring people to craft, we have to make sure the quality is there."
Bell cited the benefits of the three-tier system in ensuring quality control, unlike other industries where a recalled product cannot be easily traced. He also highlighted the value of the three-tier system from an environmental standpoint, noting its efficiency in delivering products from multiple brewers to retail customers.
MillerCoors CEO Gavin Hattersley joined Purser for a conversation on what's next for MillerCoors following the global merger of ABI and SABMiller. They discussed the brewery's plans to grow business in the U.S., its recent craft acquisitions and ongoing commitment to maintaining strong relationships with independent distributor partners to meet the needs of consumers.
"No one knows the local markets better than distributors do," Hattersley said.
Bud Dunn of Atlas Sales Inc. led a discussion with next generation beer distribution industry leaders Rebecca Maisel of Gulf Distributing Holdings, LLC, AL; Robbie Maletis Jr. of Maletis Beverage; and Victoria Verrastro of L.T. Verrastro Inc. The panel discussed the role that next generation leaders can play as proponents of innovation in the face of disruption, as well as the educational and networking opportunities that NBWA's Next Generation Group provides.
The general session also featured a presentation of the NBWA Life Service Award to Fred Dettwiller of DET Distributing Company in Tennessee and Don Heimark of Triangle Distributing Company and Heimark Distributing Company in California.
NBWA also announced the recipients of the NBWA Brewer Partner of the Year Award; Brewer Partner Sales Execution Award and Brewer Partner Marketing Innovation Award.
Following the general session program, the Product Demonstration Showcase opened featuring products and services from more than 160 exhibitors, including 35 breweries highlighting more than 100 labels of beer, as well as non-alcoholic beverages, warehousing technology, financial services software, promotional products and more.
NBWA's 79th Annual Convention continues Tuesday, September 27, at the Hyatt Regency Chicago. To view NBWA-TV videos, please visit NBWA's YouTube channel at www.youtube.com/NBWABeer. Follow the conversation on social media using #NBWAChicago, and download the convention mobile app.
About:
The National Beer Wholesalers Association (NBWA) represents the interests of America's more than 3,000 licensed, independent beer distributor operations in every state, congressional district and media market across the country. Beer distributors are committed to ensuring alcohol is provided safely and responsibly to consumers of legal drinking age through the three-tier, state-based system of alcohol regulation and distribution. To learn more about America's beer distributors, visit www.nbwa.org. For additional updates from NBWA, subscribe to The Daily Brew newsletter, follow @NBWABeer on Twitter, watch NBWA videos on YouTube and visit https://www.facebook.com/pages/NBWABeer.