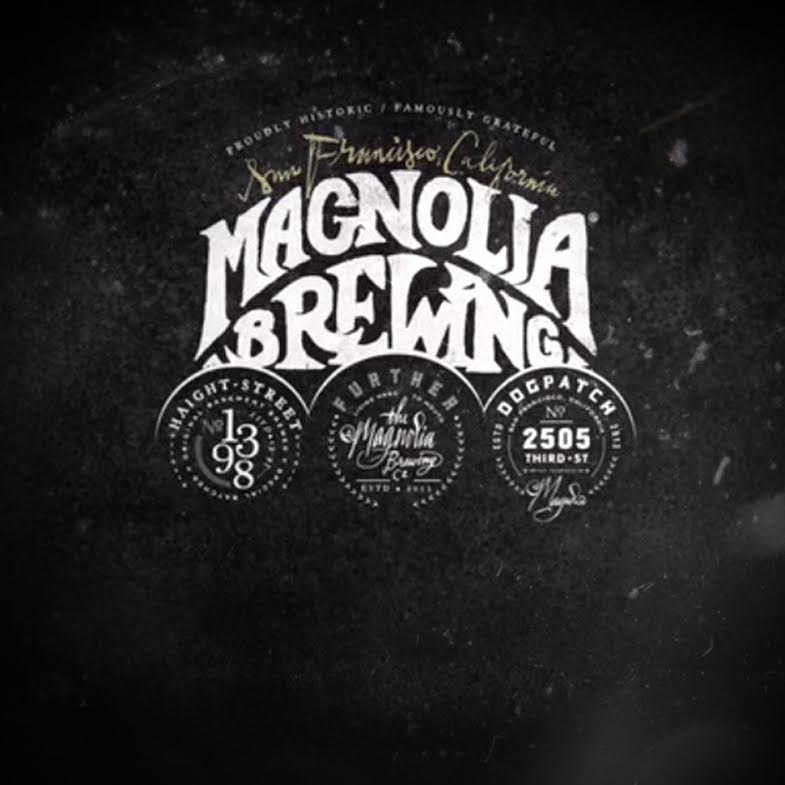 San Francisco – This September, Recchiuti Confections is excited to announce Mister Charlie's Chocolate Stout, a collaborative chocolate stout concepted by Dave McLean of Magnolia Brewing Company and Patrick McIlhenney, founder and brewmaster of Alpine Beer Company in San Diego. The cocoa-infused beer, brewed at Magnolia's Dogpatch location and available this month, features a special combination of Michael Recchiuti's signature chocolate syrup and burnt caramel syrup alongside roasted Madagascar cacao nibs.
Upon deciding to collaborate on a chocolate stout, brewers McIllhenney and McLean wanted to ensure that the chocolate element of the beer was just as carefully sourced as the other ingredients used in Magnolia and Alpine's small batch beers. Located in the same building as Magnolia's Dogpatch brewery and renowned for its high quality, handcrafted chocolates, the iconic Recchiuti Confections was chosen as the perfect partner. "As soon as we landed on the chocolate stout concept, I knew we had to get Michael on board," says McLean. The chocolate syrup, developed by blending Recchiuti's burnt caramel syrup with 64% custom semisweet chocolate during fermentation, adds dimension to the stout, while roasted Madagascar cacao nibs round out the hoppy flavor and reduce sweetness.
Thirty barrels of Mister Charlie's Chocolate Stout were made, and it will be available on tap at both Magnolia Brewing locations in the Haight and Dogpatch in San Francisco; at Alpine Brewing Company in San Diego; and at key accounts in the Bay Area.
ABOUT RECCHIUTI CONFECTIONS:
Michael Recchiuti, a self-trained chocolatier, and his wife Jacky founded Recchiuti Confections in 1997, with the idea that meticulously sourcing ingredients, hand-crafting in small batches; and using traditional European techniques would make Recchiuti Confections a necessary indulgence for consumers nationwide. With two locations in San Francisco, Recchiuti is always experimenting with new ways to make the chocolate consuming-public happy, and obsessed. For more information on Recchiuti Confections and to shop online, visit www.recchiuti.com, or find them on Twitter, Instagram, and Facebook.
ABOUT MAGNOLIA BREWING COMPANY:
Led by brewmaster and founder Dave McLean, Magnolia Brewing Company has been producing some of San Francisco's most sought-after beers since 1997, when it opened its original Haight-Ashbury brewpub. Magnolia's beers have won awards from The Great American Beer Festival and other national competitions. Among the Brewery's most beloved offerings are its flagship brands Kalifornia Kölsch and Proving Ground IPA along with well-balanced, English-influenced session beers such as Blue Bell Bitter, New Speedway Bitter, Bonnie Lee's Best Bitter and Sara's Ruby Mild. More on Magnolia at magnoliabrewing.com and on Twitter, Instagram, and Facebook.
ABOUT ALPINE BEER COMPANY
Celebrated by craft beer fanatics as "The Home of Pure Hoppiness," Alpine Beer Company was established in 1999. Since its inception, this tiny brewery located in the Cuyamaca Mountain foothills has developed a cult-like following for their highly-acclaimed ales, lagers and sours. As Brewmaster Pat McIlhenney would say "Drink Alpine, or go to bed"! Please visit AlpineBeerCo.com for more information.