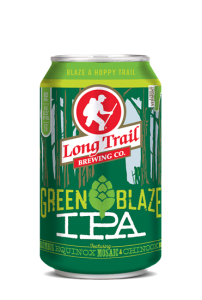 Bridgewater Corners, VT – The Long Trail Brewing Company is proud to announce the release of Green Blaze IPA, an American IPA brewed with a forest of Mosaic, Equinox, Columbus and Chinook hops.
Green Blaze IPA boasts a landscape of tropical fruit, citrus, pine and resin hop notes with a balanced, biscuit malt backbone robust enough to stand up to the big hop flavors.
"We've been working really hard to find the coolest, tastiest recipe we could come up with," said Sam Clemens, brew house lead at Long Trail. "We think we nailed it with this one."
This new year-round offering replaces the highly regarded English-style India Pale Ale in Long Trail's core lineup.
"Green Blaze is much bigger, much more in your face," said Ian Harbage, cellars lead at Long Trail Brewing. "It features the new American-style hops that we're real excited about."
Coming in at 6.5% ABV and 60 IBU, Green Blaze IPA fills a hoppy void in Long Trail's core family of ales, which includes the flagship Long Trail Ale, Double Bag and the recently released Cranberry Gose.
Green Blaze IPA will be available year-round on draught and in 12oz. bottles cans throughout Long Trail's distribution footprint. Grab your adventure-friendly cans at the Long Trail Brewery, or find them at a retailer near you, and blaze a hoppy trail with these Earth-conscious containers.
Long Trail is also proud to announce the release of a bright and fruity Cranberry Gose.
Brewed with cranberries from Bluewater Farms in Massachusetts, a family operation with more than three generations of growing experience, this ruby-hued interpretation of a classic German-style Gose (pronounced, gose-uh) is nicely balanced with citrusy notes from coriander and a sharpness derived from a splash of sea salt.
More than 400 years old, the Gose style is undergoing a renaissance thanks in part to the innovation of American craft brewers.
"Freshly pressed cranberries really give this beer a nice, bright fruitiness," said Long Trail brewmaster, Dave Hartmann. "It's a really interesting take on a Gose."
Developed in Long Trail's farmhouse-turned-pilot-brewery, the brew crew created the first test batch using freshly pressed juice from Hartmann's home juicer.
The partnership with Bluewater Farms allows Long Trail to receive as much as 500 gallons of freshly pressed cranberry juice straight from Cape Cod. A much more efficient process, Hartmann said.
"We're really excited to be working with Bluewater Farms," Hartmann said. "They have been doing this for a long time. They're real pros."
For the folks at Bluewater Farms, the feeling is mutual.
"We're excited to see two iconic New England brands come together to create a signature offering," said Kristine Esdale, director of marketing at Bluewater Farms.
To achieve a tart, effervescent character, Hartmann and his team kettle-soured this cranberry concoction. This traditional souring technique was achieved by holding the wort overnight and allowing the natural microbes in the air to sour the grain before it is boiled a second time and transferred to the fermenter. Cranberry juice, wort and yeast come together in the fermenter to create a complex, refreshing beer.
"You have a sharpness, a salty background, a citrusiness from the coriander and the bright, sharp flavor from the cranberries," Hartmann said.
Cranberry Gose will be available year-round in 12oz. bottles and on draught beginning in mid-May, so grab a glass and see where this Long Trail takes you.
About Long Trail Brewing Company:
Inspired by the 273-mile hiking trail that traverses through the Green Mountains, Long Trail Brewing has been a caretaker of Vermont craft since 1989. Moved and motivated by the local culture and surroundings, we work hard to create beers worthy of our Vermont roots. From small-batch recipes developed in our farmhouse-turned-pilot-brewery to large-scale staples like our flagship Long Trail Ale, our brewers are committed to crafting a trail-worthy family of beers.