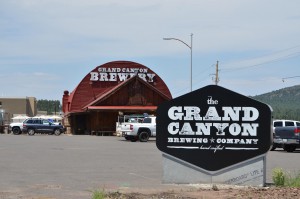 Willilams, AZ — The Grand Canyon Brewing Company operates with a motto, to live curiously, and to encourage a sense of adventure in its fans through the slogan, Discover a Grand Canyon State of Mind. This year, GCB led by example when they ran a massive white water rafting sweepstakes and expanded to a 20,000 square foot brewhouse and tap room located just two miles down Route 66 from their original location in Williams, AZ. With expansion came growth and room to explore creative beer making styles, flavors and techniques. The result, a variety of new specialty series beers, available at select craft beer destinations across the valley.
If barrel aged or barrel fermented are your thing, check out the Wild Wonders series. These beers represent the wildest side of GCB staff ambition and imagination. The first release is DireWolf followed by Will-O-The-Wisp and Rummy Brown later this year.
DireWolf American Sour Ale with Fruit: Set to release mid-October with only 1,669 bottles of beer on the wall, DireWolf represents the first time GCB has released a sour ale. Described as tart, fruity and full of bourbon and fresh oak character, this wild fermented beer takes Shaggy Bock seasonal to another level. Half aged in freshly emptied bourbon barrels, the other half in stainless steel barrels with Brettanomyces, Lactobacillus, Pediococcus, fresh blackberries, plums, oak and cherry wood staves. Taking more than a year to develop, DireWolf has a dark plum and tart cherry flavor with underlying vanilla, fresh oak and bourbon notes creating a well-rounded, tart sour ale. ABV 7.1% / IBU 24.5 Availability: October – November, limited release
Next, check out the Shot Gun Series a limited release series where anything goes. Any fun, creative ideas that the GCB team and fans come up with is worth a blast of the shot gun. In 2016, those beers included Spruce Lee, 7th Vortex Saison, Bill Williams Berliner and available now, Lost Belgian Gold.
Spruce Lee: A Strong ale fit for any kung fu master, Spruce Lee is made with fresh cut spruce tip and handpicked Juniper berries for a warm, Earthy flavor with mild spice and woody characters. A generous helping of Molasses and Maple syrup are added to this brew, bringing a touch of sweetness to the complex flavor and aroma. ABV 9% / IBU 25 Availability: May
7th Vortex Saison: A fresh twist on the Farmhouse Ale classic style. 7th Vortex pairs the spicy notes of Saison yeast with intense tropical citrus notes of Azacca hops and sweet flavor of fresh peaches. Much like the swirling energy vortexes found in Sedona, Arizona, this Saison is gracefully blended to create a magnetic harmony that's light and refreshing. ABV 6% / IBU 30 Availability: June
Bill Williams Berliner: A tribute to the great frontiersman, Bill Williams, this Berliner Weisse is tart, fruity and thirst quenching. A kettle souring process using Lactobacillus makes this beer a mouth-puckering, sour experience. Generous amounts of honey and strawberries are added after fermentation creating a full body balance between sweet and sour. ABV 4.5% / IBU 10 Availability: July
Lost Belgian Gold: Inspired by the Lost Dutchman's Gold Mine, this Belgian Pale Ale offers a complex profile that's rich in fruit and spice flavors with a toasted malt body. Discover the light bitterness balanced with sweet caramel notes for a modern take on a classic beer style. Much like the Arizona desert, Lost Belgian Gold finishes crisp and dry. ABV 6% / IBU 25 Availability: October
The GCB is also working on plans to launch a Cask Series that will feature unfiltered true ales and variations of GCB specialty brews.
Stay tuned to the Grand Canyon Brewing Company website at www.grandcanyonbrewery.com for more announcements and to located a specialty brew near you. Also, be sure to swing by and check out the new digs, grab a pint, take a tour and enjoy.
About the Grand Canyon Brewing Company
Located at 301 N 7th St, Williams, AZ, the Grand Canyon Brewing Company is a family owned and operated craft brewery producing over two dozen specialty craft brews each year. The smell of bubbling yeast and fresh hops fill the air as the brewing team works to create their award winning beers. Copper tanks and stainless steel fermenters fill the room next to a newly renovated taproom with 16 different tap handles including Sunset Amber Ale, Horseshoe Bend Pale Ale, American Pilsner, Black Iron IPA, Grand Canyon Expeditions Wheat Ale, Coffee Bean Stout, Hop Bomber and a few guest beers – all from local breweries.
Whether you're camping, boating, hiking or kayaking down the Colorado River, the Grand Canyon Brewing Company encourages its fans to live curiously, seek adventure and discover a Grand Canyon State of Mind through the enjoyment of its handcrafted brews.
To locate a pint of Grand Canyon Brewing beer near you, be sure to download the free Crescent Crown Distributing app to your phone and search for a neighborhood pub or retail location. For more information about the Grand Canyon Brewing Company, and to purchase beer to be shipped directly to your door, visit online at www.grandcanyonbrewery.com and be sure to "like" us in Facebook at www.facebook.com/grandcanyonbrewery.
While in the Williams, AZ area, patrons can enjoy Grand Canyon Brewing's hand-crafted beer at the Cruisers Route 66 Café and gift shop located next door to the brewery and tap room. For more information about the Cruiser's Route 66 Café visit www.cruisers66.com and be sure to stop in the next time you're near the southern rim!