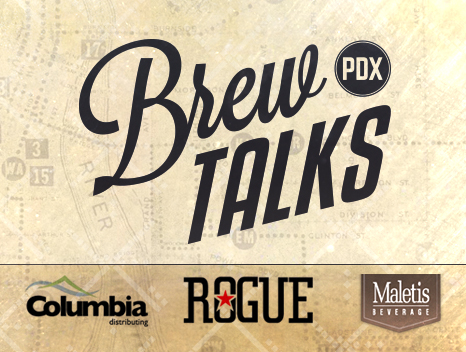 We're just 48 hours away from Brew Talks PDX, being held on Wednesday Aug. 19 at Providence Park in Portland, Ore., and it's finally time to reveal this month's featured speakers.
More than 100 beer industry professionals are already registered to attend the meetup, hosted by Widmer Brothers Brewing, and they'll hear from a pair of leading distributor executives as well as the head of one of Oregon's pioneering craft breweries.
Rogue Ales president Brett Joyce, Columbia Distributing president Mark Walen and Rob Maletis, the owner and president of Maletis Beverage, will join Brewbound assistant editor Dave Eisenberg in a conversation about the dynamic Portland beer scene.
Throughout the discussion, the trio will explain the challenges of continuing to grow craft sales in one of the most progressive and competitive U.S. markets. They'll also highlight the specific characteristics that make selling craft beer in Portland particularly unique from other areas of the country.
In a second conversation with Brewbound editor Chris Furnari, CBA's senior manager of emerging business, Karmen Olson, will discuss the new division, how the company approaches partnerships with smaller breweries and its outlook on the continued evolution of the craft category.
Beer business professionals are invited to join the PDX meetup, being held in the Key Bank Club at Providence Park at 5:00 P.M. on Wednesday, Aug 19. Panel discussions will begin promptly at 5:30 P.M. and guests are invite to imbibe and socialize until 8:00 P.M.
In addition to hosting conversations with industry experts, Brewbound will also be raising money for the Oregon Brewshed Alliance, a coalition of brewers, craft beer affiliates, and conservationists advocating for the protection of forests and watersheds. 100 percent of registration proceeds will be donated to Oregon Wild, the non-profit group behind the initiative.
Brew Talks — gatherings designed to provide craft brewers, distributors and retailers the opportunity to come together and have in-depth discussions on the business side of craft beer – will offer attendees an excellent opportunity to gain business lessons and network with other beverage entrepreneurs.
About Brew Talks:
Since hosting our first event in the basement of a craft beer bar in Boston in 2013, the meetup series has developed into a multi-city tour where beer industry professionals can come together inside of some of the country's most recognizable craft breweries and share business insights with one another. The Brew Talks program is designed to provide members of the beer community with an opportunity to come together and have in-depth discussions on the business of craft beer. The events are also broadcast globally via a free live stream. Through its six meetups this year, Brewbound has connected with more than 700 beer industry professionals and raised $8,000 for local non-profit organizations.