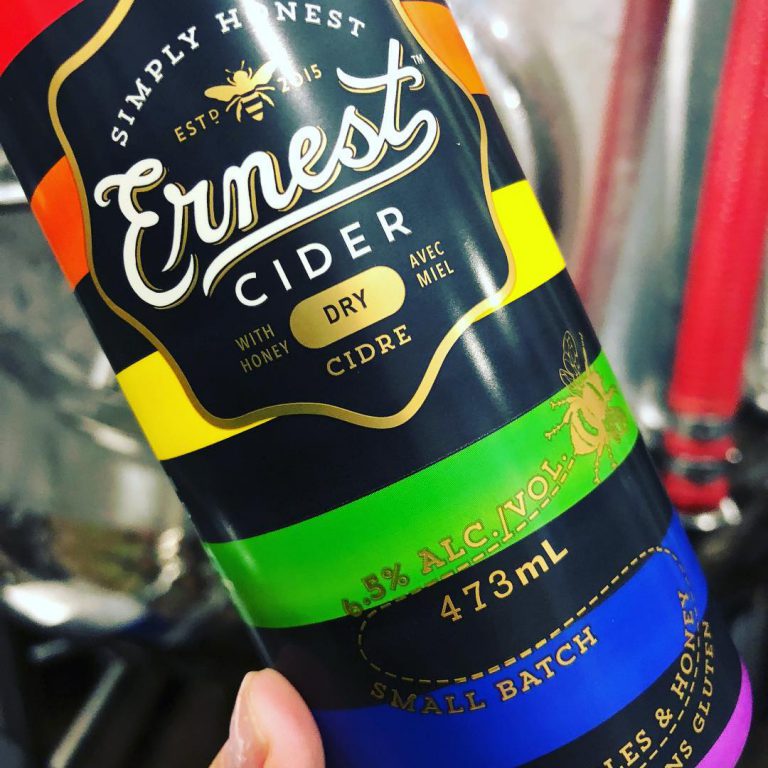 TORONTO — Launching next week, Ernest Cider Co. will be debuting their rainbow stripes with their original dry cider for the month of June in support of Pride Month. As Canada's first cidery to be B-Corp Certified and Bullfrog Powered, Ernest Cider Co. will be donating $0.10 per can to Rainbow Railroad – a registered charity, helping LGBTQI+ individuals find pathways to safety.
The vision behind the Ernest Cider Co. Pride cans is to create and support diversity within the craft beer/cider industry. Ernest Cider Co. has always believed in inclusivity, and wanted to grow into a business that helps create opportunities for all people, that also want to make a contribution to their communities. These are only some of the driving reasons Ernest Cider Co. also became B-Corp Certified. Ernest Cider Co. will kick off their official Pride launch with their tall cans available in LCBO's on June 8th 2018, and have also partnered with Pride Toronto for their newest Pride event, Til Sunrise on theToronto Island.
Made with seven varieties of 100% locally farmed and pressed Ontario apples, lightly back-sweetened with pure local honey and a bit of organic cane sugar, Ernest Cider Co. doesn't have to go too far to find premium apples in Ontario. You will never find juice added from concentrate as the Ernest Dry cider is fermented slowly in small batches, giving the perfect balance of high-quality ingredients and taste.
"We are connected to the Pride community through our friends and family and now have a way to help show our support," said Michelle Faris, Co-Owner and Founder of Ernest Cider Co. "We look forward to continuing our support Rainbow Railroad again next year as this is just the beginning of a long-term partnership."
"Our goal with this cider is to bring awareness and do our part to support LGBTQI+ people and friends through the craft cider industry," said Co-Owner, Founder and Cidermaker, Steve Faris. "The proceeds from our cider are going to help fund resources and supporting those in need within the LGBTQI+ community in our local area."
Ernest Dry Cider Pride tall cans (6.5% acl./vol.) 473 mL will be available in LCBO stores, select grocery stores and can be found in restaurants and bars across the Greater Toronto Area for a suggested retail price of $3.45 for the month of June. To find out where Ernest Cider Co. is available in your area, visit their website for more details.
About Ernest Cider Co.
The husband and wife team of Ernest Cider Co. are passionate about apples, cider, community and the environment. Ernest Cider is the first B-Corp certified and Bullfrog powered cidery in Canada and recently a certified Living Wage Employer. All of Ernest Cider's apples and honey are sourced locally throughout Ontario as caring for the environment is part of Ernest Cider's DNA; Ernest Cider Co. is more than a cidery; it is a social enterprise that considers its impact on society and the environment.
To Learn More
Cider lovers can explore the Ernest Cider Co. online at http://www.ernestcider.com/, like us at https://www.facebook.com/ernestcider/, https://instagram.com/ernestcider, and follow us at https://twitter.com/Ernestcider.