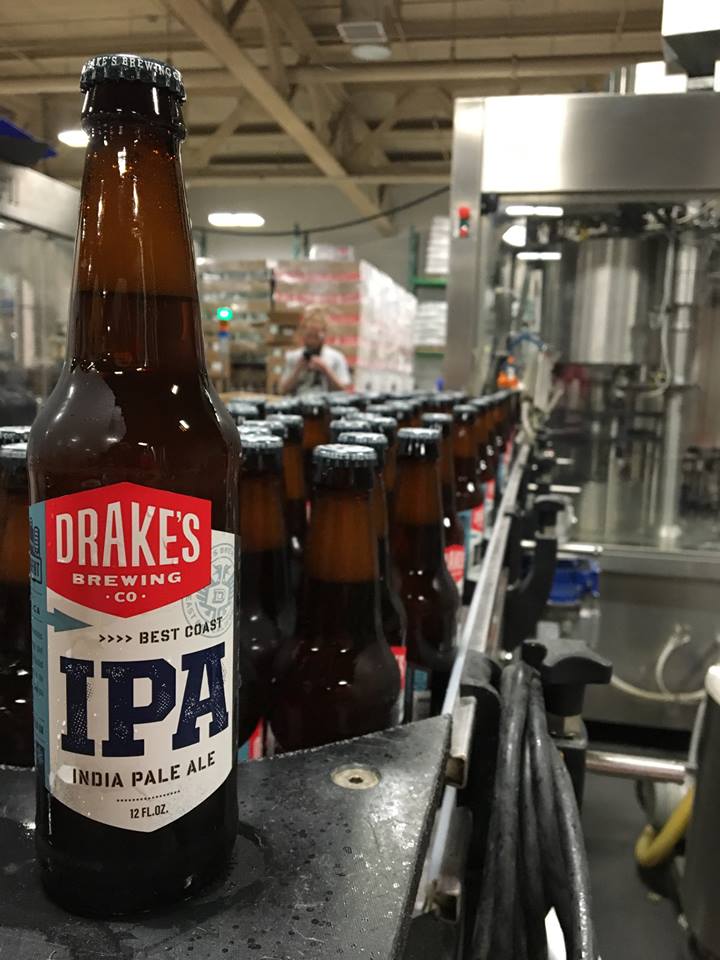 San Leandro, CA — Just in time for its 27th anniversary, Drake's Brewing Co. is unveiling its recently expanded brewing facility in San Leandro. Drake's, one of the pioneers of Northern California craft brewing, has developed a loyal following in the Bay Area and beyond.
In an effort to keep up with rapidly growing demand over the past few years and stay at the forefront of innovation, the brewery has tripled its production space including a new brewhouse, fermentation cellar and packaging warehouse. Not only will Drake's be able to increase production of the brewery's pioneering hoppy beers, but use the additional capacity to focus on growing its specialty, limited and barrel-aged brews.
"We simply haven't been able to keep up with demand," says owner, John Martin. "We've been brewing round-the-clock for the past two years, and it's great to finally give our brewers the best, state of the art equipment and space to really unleash their creativity."
Within the next year, the brewery will be expanding its portfolio, adding two new 6 pack brands, a variety pack, plus more than a dozen new seasonal and limited-run bottled brews. The brewery's original brewhouse—operating continuously in the same space for 27 years—will now be devoted full-time to experimentation, innovation and collaboration.
Drake's will also begin ramping up The OAK Project, a new 11,000 square foot space dedicated to sour barrel aging. The program will focus on wild fermentation in a variety of oak barrels using locally-sourced fruits such as cherries, raspberries, apricots and, of course, wine grapes. With the brewery's expanded fermentation and cellar space, Drake's brew team will be focusing their efforts on quality with many brews poised to become cult favorites such as Lusu's Love Child, Aroma Coma, and Oaklander Weisse. Visitors to Drake's Brewery in San Leandro will be able to enjoy more than 25 taps of rotating Drake's beers, as well as many exclusive bottled releases.
With the yearlong construction now coming to a close, Drake's will be relaunching it's popular brewery tours on September 7, offering an in-depth, behind-the-scenes look at the newly expanded brewery five days a week.
Look for Drake's new packaging in stores
Also rolling out on shelves this fall is a fresh new look for its iconic logo and packaging, helmed by Emrich Co, a small graphic design and branding company based in Indianapolis. Updated packaging of Drake's products debuted this summer with Drake's Kick Back IPA, a beer launched to reflect the brewery's community initiative to raise money for local non-profits. The bright, eye-catching color palette is designed to reflect the company's hardworking, industrial East Bay roots, and will be touching all of Drake's packaging before the end of this year.
Spreading Our Wings in Sacramento…
Plans are underway for Drake's Brewing Co. to open a beer garden at The Barn, a new 8,025 square foot food and event venue that will be the focal point of West Sacramento's River Walk when it debuts in the first half of 2017.
The new full-service taproom and beer garden will feature a menu spearheaded by Executive Chef Taylor A. Smith of Drake's Dealership. Focusing on local produce and grab-and-go items for easy picnicking in The Barn's ample shade park and public gathering spaces, Drake's will showcase more than 20 fresh beers on tap and available to take home in addition to supporting guest taps from many of Sacramento's abundant outstanding local brewers.
An architectural marvel, The Barn's modern, curvy cedar-shingled structure is still under construction, but the grounds are open for Friday night parties hosted by San Francisco-based event producer Off the Grid with music, food trucks and drinks.
Adopting some of its style from Drake's Dealership, Drake's new West Sac location will cultivate an easy-going vibe with Adirondack chairs, fire pits, and a welcoming smile for kids and dogs. The beer garden will do double-duty as a café early in the day to serve coffee and snack for bikers and joggers along the River Walk.
About Drake's Brewing Co.
Drake's Brewing Co., an independent craft brewery located in San Leandro, Calif., has been dedicated to bringing people together over great beer since 1989. Quietly situated in its gritty warehouse environs, Drake's has become known over the years for consistently producing a wide variety of hop-forward craft beers. From the groundbreaking 1500 Pale Ale to innovative creations like the Denogginizer Double IPA, and most recently, a growing collection of artisan barrel-aged and sour beers, the brewery's dedication to quality and integrity shines through in every beer. As one of the original craft breweries in the Bay Area, Drake's is dedicated to supporting its community first and working tirelessly to bring its brand of quality beer to more people.
Drake's Brewery and Barrel House is located at 1933 Davis Street, Building 177, in San Leandro. Drake's Dealership is located at 2325 Broadway Auto Row in Oakland. For more information, visit Drake's Brewing Co. online at DrinkDrakes.com or call 510-568-BREW.