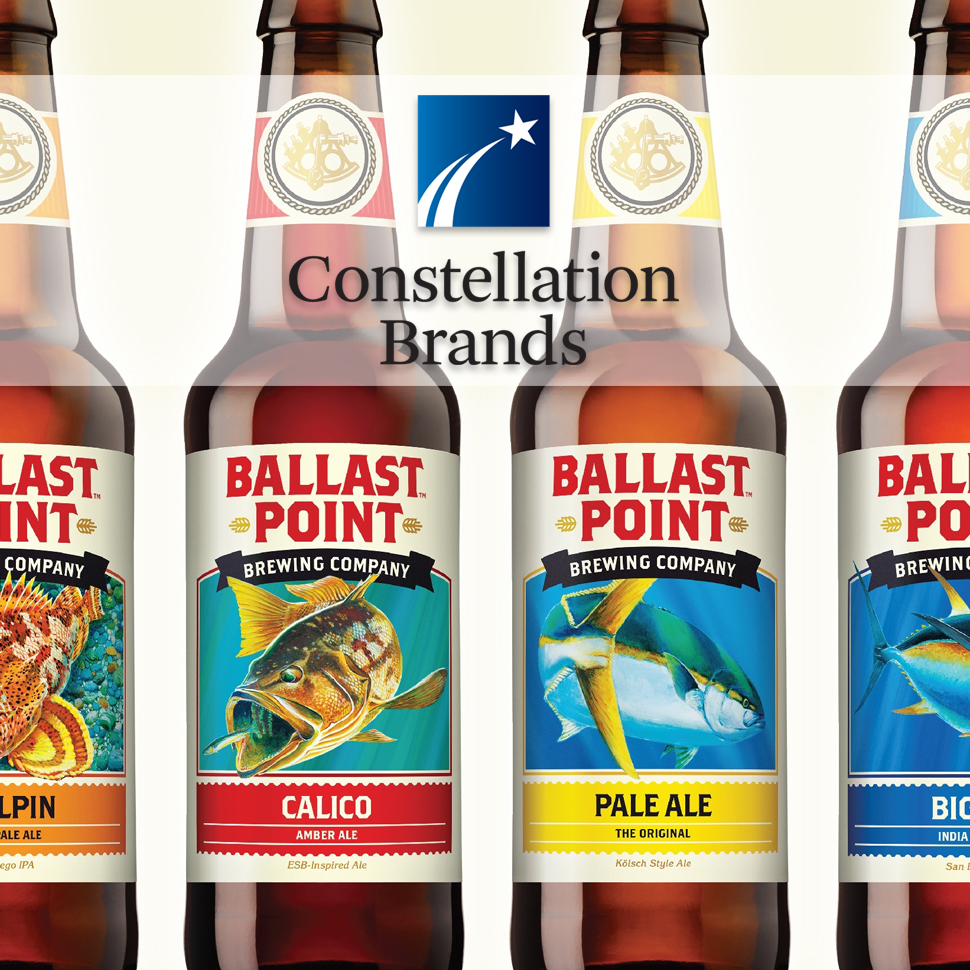 Constellation Brand's continued effort to move Ballast Point Brewing into its so-called "Gold Network" of U.S. beer distributors took a significant leap forward this month when the San Diego-based brewery's distribution rights were sold in its second largest market — Massachusetts.
Constellation, a cross-category alcoholic beverage company best known for selling Mexican import offerings Corona and Modelo, has confirmed to Brewbound that Ballast Point beers are no longer being sold in Massachusetts by Atlantic Beverage Distributors and the Sheehan Family Companies-owned Craft Beer Guild LLC.
Instead, a collection of six "Gold Network" distributors who already sell Constellation Brands' beer products – Atlas Distributing, Burke Distributing, Merrimack Valley Distributing Company, L. Knife & Son (a subsidiary of Sheehan Family Companies), Williams Distributing and Quality Beverage – and one non-affiliated wholesaler, Commercial Distributing, are now selling the Ballast Point brand throughout the state.
A seventh "Gold Network" wholesaler, Girardi Distributors LLC of Athol, Mass., reportedly opted not to carry the brand, sources told Brewbound.
"This move was made several months ago and driven by efficiencies we could realize as a result of aligning with the Gold Network," a Constellation spokeswoman wrote in an email to Brewbound, noting that Massachusetts was an "important area of focus" for the company.
Numerous wholesalers interviewed by Brewbound said "Gold Network" distributors in Massachusetts officially began selling Ballast Point products earlier this month.
Specific financial terms of the transaction were not disclosed. One source, who asked not to be named, said the rights to distribute Ballast Point were sold for "fair market" value.
Another source close to the Ballast Point business told Brewbound that sales of the brewery's beers in Massachusetts were up 26 percent in 2016, to approximately 180,000 case equivalents.
The brewery's products were previously sold by Atlantic Beverage Distributors and Craft Beer Guild LLC (CBG) — two craft-focused wholesalers that had fought one another for draft lines and shelf space across the state as part of a process known as "dueling." Under that arrangement, CBG and Atlantic sold the same Ballast Point products, in the same territories, which is not how the majority of contracts between brewers and beer distributors are typically structured.
In most states, brewers are only allowed to grant distribution privileges to one wholesaler in a given territory.
Approximately 6 percent of Ballast Point volumes flowed through Massachusetts in 2015, according to an SEC filing from October of that year, one month before Constellation purchased Ballast Point for $1 billion. The San Diego brewery sold 277,000 barrels of beer in 2015 and, sales grew to about 431,000 barrels in 2016, according to Brewers Association records.
According to one source, Atlantic sold the majority of Ballast Point beer distributed in Massachusetts.
Mino Soghomonian, Atlantic Beverage Distributors general sales manager, wouldn't share specific sales information, but said his company planned to offset at least some of the lost business with an increased focus on selling beers from both existing and new suppliers.
"We are committed to continuing to grow our presence as the independent craft beer distributor in Massachusetts that has scalability," he said. "Our focus is on independent craft breweries, and we have showed that with the newest addition to our portfolio, Lawson's Finest."
Atlantic recently expanded into a new 106,000 sq. ft. distribution center in Holliston, Mass., and, in the last seven years, has grown from 40 employees to about 240, Soghomonian said. The company currently distributes about 40 brands, including national craft stalwarts such as Stone Brewing and Dogfish Head as well as breakout regional players Lord Hobo and Jack's Abby, among others.
The Ballast Point brand transfer in Massachusetts follows a similar move made by Constellation last week in New Jersey. The rights to about 100,000 cases of Ballast Point were sold by Hunterdon Brewing Company, another Sheehan Family Companies wholesaler, to various "Gold Network" wholesalers, according to Beer Marketer's Insights.
Last January, Ballast Point terminated contracts with Sheehan Family Companies subsidiaries in New York City and moved the brand to Manhattan Beer.
Ballast Point brand rights also transferred in Wisconsin and Maryland in 2015.
At the Beer Marketer's Insights seminar, held earlier this year in Chicago, Constellation Brands' executive vice president Paul Hetterich said the Ballast Point brand was "60 percent" aligned with the "Gold Network."
"We want to align it," he said. "It is what makes sense for our business."