One million barrels.
That's where Anheuser-Busch InBev's "High End" craft production is headed in 2016 following the acquisition of Virginia-based Devils Backbone Brewing Company, its eighth craft brewery purchase since 2011 and its sixth in the last 18 months.
When the Devils Backbone transaction closes later this quarter, it will give the High End unit its third significant craft brewery beachhead east of the Mississippi. The Virginia craft beer maker joins Chicago's Goose Island and New York's Blue Point Brewing in a portfolio of brands that also includes 10 Barrel, Elysian, Golden Road, Four Peaks and Breckenridge.
While A-B does not disclose official production volumes, Brewbound estimates that all eight existing High End craft brands, including Michigan's Virtue Cider which was purchased last September, and Devils Backbone, combined to produce upwards of 900,000 barrels in 2015. Even without Shock Top and Stella Artois volumes, two additional High End brands, the group's combined production would rank it as a top 10 U.S. craft brewing company.
For now, it's Goose Island and the seven craft beer dwarfs: more than half of A-B's High End volume, upwards of 480,000 barrels, is concentrated in the nationally distributed Goose brand.
But its focus on building Goose into a prominent national craft brand hasn't interrupted A-B from getting deals done with other regional producers. In fact, A-B's continued pursuit of craft acquisitions, and its willingness to invest hundreds of millions of dollars to become more active in the space, has helped the company turn itself into one of the largest and most robust players in an increasingly crowded and fiercely competitive craft segment.
So how are they accomplishing it?
One of the men behind A-B's transformation from a domestic lager producer into a serious craft beer threat is Felipe Szpigel, the president of the High End business unit. The secret, he claims, in addition to the ability to write large checks, is the group's knack for leveling with craft brewery owners and laying out a straightforward future growth strategy.
"Over the last year and a half, we have been very transparent on our strategy when we have these conversations (with craft brewers)," Szpigel told Brewbound. "We share with them our vision and the role that we have to play. It's not about having a big number of players, it's about having the right players that can help us achieve our goals."
But for Devils Backbone, and perhaps other cash-strapped craft brewers before them, the decision to sell ultimately came down to the company's inability to rely on traditional bank financing as its primary source of growth capital.
"We had already ordered three new 960-barrels fermenters and we kept working with the banks thinking we could pay for this equipment," Devils Backbone co-founder, Steve Crandall, told Brewbound. "The banks said 'no' and we didn't have the ability to fund that purchase."
That was last February. Around the same time, Crandall said, A-B came knocking.
"I wasn't interested in selling the company, but it did start the thinking and the thought process," he said.
So the company hired beverage advisory firm First Beverage Group last summer, which provided Devils Backbone with a list of "a couple dozen" interested investors.
"We didn't want to go the private equity route," he told Brewbound. "That wasn't the right approach for us. I wanted to keep my finger on the pulse for years to come and the PE route didn't make sense because you don't have control over where that is heading."
A-B, he said, was the only company that provided Devils Backbone with a clear sense of its potential future and High End executives explained how they would "support" the vision Devils Backbone had for itself.
"When you hit between 50,000 and 150,000 barrels, there are important decisions that you have to make," said Szpigel. "Do you do it yourself, bring on a strategic partner, get a bank or private equity? There are many people looking at those paths and there are many players today on the market that are making offers and promises. We're second to none in terms of getting a fair value, the passion we have for beer and people, and supporting them."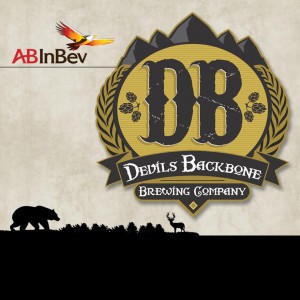 Crandall admitted that the fermentation tanks eventually still made their way to Virginia, thanks to his strong relationship with German manufacturer Rolec and a negotiated payment plan. But the ongoing capital needs of growing a rapidly emerging brewing operation like Devils Backbone — one that has its sights set on 250,000 barrels in the near future — weren't going away.
"The amount of capital required to grow in the sphere we were in, and constantly continuing to spend capital on expansion, exceeds traditional lending criteria," he said. "It just doesn't work. You have to find another way to do it. We are seeing examples of this all around the country."
So what does Devils Backbone's future look like now that its got the support of the world's largest strategic partner?
The company is planning to add another 50,000 sq. ft. at its "Outpost" production facility, an expansion that will include a new shipping center, a larger taproom, additional packaging automation and barrel-aging capabilities.
95 percent of its beer is sold in Virginia, Crandall said, but Devils Backbone products are currently available in Maryland, Tennessee, North Carolina, West Virginia and Washington D.C. Additional east coast market openings s are "likely" in 2017, he said, adding that the company's current distribution footprint is made up primarily of A-B aligned wholesalers.
Devils Backbone produced 62,000 barrels of beer last year and is projecting sales of about 95,000 barrels in 2016, Crandall said.