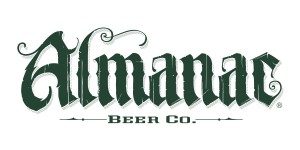 Randolph, MA – Almanac Beer Co. of San Francisco will begin distributing throughout the State of Massachusetts on a permanent basis after announcing its distribution agreement through the Massachusetts Beverage Alliance, a craft beer distributor network servicing the Commonwealth. Almanac is well respected nationally for it's sour program and will be rotating multiple styles into distribution from its Farm To Barrel Series and Fresh Beer program starting with Farmer's Reserve Pluot, Hoppy Sour: Azacca, and Almanac IPA amongst others.
"Almanac is incredibly excited to join the Massachusetts beer scene. We've long admired the local brewing culture and history in Boston and Massachusetts, and are thrilled to be a part of it." Said Jesse Friedman of Almanac Beer Co.
Founded in 2010 by Friedman and Damian Fagan, the San Francisco-based Almanac Beer Co. is known best for its Farm-to-Barrel Wild Ales including the Farmers Reserve series, which are produced using locally-sourced fruits from partnering farms throughout Northern California and then rested in oak barrels. Each harvest, Almanac partners with a different Northern California farm to supply the fruit used for that season's batch. This level of collaboration gives Almanac's ales a terroir distinctive to the region.
"We hosted Almanac for Beer Advocate's Extreme Beer Fest this past February and had a small amount of beer available for distribution and events leading up to the fest," said Brian Murphy, MBA's Director of Sales & Marketing. "Our customers responded excitedly to Almanac as their portfolio resonates with a growing segment of the craft beer consumer population. Their reputation for producing some of the best wild and barrel aged beer in the country precedes itself. We are very proud to be welcoming Almanac from the Golden State."
Massachusetts Beverage Alliance LLC is a network of like-minded beer distributors who share the mission of providing, promoting, and building quality craft and specialty import beer throughout the state of Massachusetts. The MBA is proud to have 14 Certified Cicerones throughout their network to help promote and educate the Massachusetts market on the craft beer category.