After two decades of steady growth, Upland Brewing is taking a two-pronged approach to expansion in 2018.
The brewery, ranked by the Brewers Association as the third largest beer company in Indiana, not only plans to dig deeper in its home state, but also expand distribution of its wood-aged and sour beers to a handful of new U.S. markets this year.
Speaking to Brewbound, Upland COO and head of brewing operations Pete Batule said a "major focus" for the Bloomington-based craft brewery will be to reach more Indiana drinkers outside of Indianapolis and Bloomington.
"There's this huge opportunity for us to grow in our home state," he said, citing Brewers of Indiana Guild statistics that indicate only about 6 percent of Hoosier state consumers drink craft beer while just 2 percent drink Indiana-made beer.
"There are a lot of great beer drinkers we haven't connected with yet," he added.
For Upland, reaching Indiana consumers is important because 90 percent of the company's volume is sold in the state. According to Batule, company-wide sales grew about 15 percent in 2017, to 16,500 barrels, between Upland's two brewing facilities and four brewpubs.
"We've had pretty consistent growth, year-over-year," he said. "No giant years where we're quadrupling in size, but it's been a pretty nice, steady, slow growth for us over the span of 20 years."
Batule said that increased sales of Dragonfly IPA, which now accounts for about 35 percent of total output, has driven Upland's growth over the last five years.
"That's been a big catalyst for growth for us," he said.
Also aiding the steady growth have been Upland's Wheat Ale and Champagne Velvet pilsener, the company's No. 2 and 3 brands, respectively. The popularity of those brands speaks to consumer demand for easy-drinking, sessionable beers, Batule argued.
For 2018, Batule said Upland is projecting volume growth of about seven percent.
In order to reach more mainstream beer drinkers, and meet forecasts, Upland will expand the availability of its canned products in 2018. The company, which had been using a mobile canner, plans to install a canning line in the summer. Batule called the investment "a game changer."
"That's our big project for 2018," he said. "It'll allow us a lot of flexibility and plenty of room for growth as well."
Last year, Upland introduced Free Time Vienna lager in 15-packs, and the company plans to double down on that bet with the release of 15-packs of Preservation Pilsner. Most retailers are selling those SKUs for $15.99 — $19, Batule said.
"We had pretty good success with that in our home markets," he added.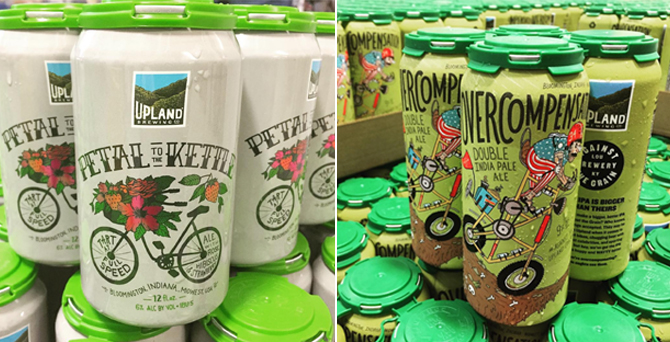 Despite the focus on its home markets and neighboring states (Kentucky, Illinois, Wisconsin and Ohio), Upland has also expanded availability of its wood-aged and sour beers in "craft-specific markets" in recent months. Batule said the company was able to offer its sour products to more states after bringing a dedicated sour facility, The Wood Shop, online in 2016.
Last year, Upland expanded distribution of its sour offerings into California, North Carolina, Nashville, Maine, New York, Boston, Philadelphia, and Washington, D.C. And today, the company announced it would begin shipping its products to Colorado via Elite Brands.
"We'll open a couple of new markets, but nothing like we did last year," Batule said of the company's 2018 expansion plans. "We have plenty of work to keep up with [in] the markets that we opened last year."
Additionally, as part of its 20th anniversary, Upland has announced an ambitious release calendar, including about 40 new offerings. Many of those new beers will be produced in small batches and served exclusively and the company's four pubs. Several other new offerings will launch exclusively in cans and on draft, including Life Exotic saison, Two of Tarts gose and the Side Trail IPA series, Batule said. The company will also begin producing Campside Pale Ale year-round.
Meanwhile, the company is still searching for a replacement for former owner and president Doug Dayhoff, who sold his minority interest in the company back to existing investors and departed the company at the end of last year.
"We're still looking," Batule said. "We have not found the right fit as of right now."
According to Batule, Upland is hoping to identify someone who will mesh with company culture and help the business "grow for another 20 years."
"For us, we're going to take our time to find that person that can resonate with everybody on the team and help us get through the next 20 years," he said.
In the interim, Batule said he's splitting many of Dayhoff's daily duties with vice president of sales David Bower and chief finance and administration officer Tim Spears.